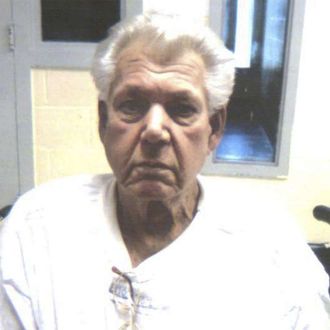 Photo: Connecticut Dept. of Corrections
Robert Gordon had lived an unassuming life in the tiny Connecticut town of Sherman for close to 30 years. People knew him as Bob, a guy who fixed boats. Now, at 71, he's got a slew of health problems — congestive heart disease, bladder cancer — and just supervises others as they make boat repairs. 
But Robert Gordon is a made-up name, one conjured up nearly 50 years ago after a man named Robert Stackowitz walked off a lot where he was fixing school buses as part of his prison work duty in Georgia. He evaded authorities until last week, when U.S. Marshals showed up on his doorstep with a warrant for his arrest.
Stackowitz had served two and a half years into a 17-year sentence for armed robbery when, in 1968, he decided to catch a ride to the airport in Atlanta and fly away. "I worked over there for quite a while and one day I left. It's kind of simple as that," Stackowitz told CBS News. "Somebody gave me a ride to the Atlanta airport and [I] got on a plane and flew home." Back then, he added, they "didn't have terrorist checks."
Stackowitz said he doesn't even think he's got so much as a speeding ticket in the nearly 48 years he's been on the lam. Nobody seemed to know his secret. Not his customers, not his neighbors, not his girlfriend of more than 20 years. "I've been in shock all week," his partner, Cindy Derby, told the Atlanta Journal-Constitution. "He never mentioned Georgia. I'm not mad at him."
Georgia law enforcement caught up with Stackowitz, who, by his own admission, had gotten a bit sloppy. He applied for Social Security benefits using his real name, and listed it on his property-tax forms. Stackowitz figured if authorities were after him, they'd have tracked him down by then. But Georgia's Fugitive Apprehension Unit had been following up on some cold cases. The unit reached out to the Carroll County Correctional Institute, from which Stackowitz had escaped, and asked for his file. It was in a stack of folders, set to be shredded. But according to the Daily Beast, the warden set aside two files, just in case. One of those belonged to Stackowitz. His name and photo were run through the system; there was a match in Connecticut. 
Stackowitz, who admitted his identity as soon as authorities showed up at his house, is now trying to avoid extradition to Georgia. He's asking for officials to commute his original armed-robbery sentence, and requesting that the DA doesn't file any additional charges related to his escape. His lawyer is citing his clean record since the escape and his health issues. 
But authorities in Georgia say they won't consider Stackowitz's requests until he returns to the state. The Georgia Department of Corrections and the Board of Pardons and Paroles will review his case, his original crime, and his conduct over the past 48 years, according to the Hartford Courant. Right now Stackowitz is out on $75,000 bail, posted by friends, and back in his Connecticut home. He faces an extradition hearing June 6.
"I was Gordon. That's who they knew me as," Stackowitz told the Journal-Constitution, after he was freed on bail Saturday. "I don't feel bad about lying. I feel bad about being caught."