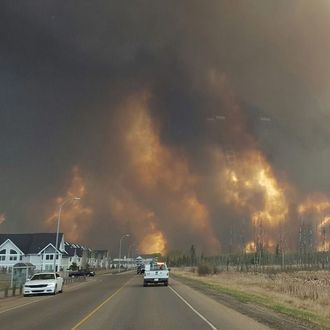 Fort McMurray on Tuesday.
Photo: Mary Anne Sexsmith-Segato/The Canadian Press via AP
A massive wildfire has engulfed the area around the Canadian town of Fort McMurray in Alberta. The blaze has destroyed homes and forced almost the entire town — about 80,000 people — to flee. 
The fire started over the weekend near Fort McMurray, a former boomtown on the edge of Canada's rich oil sands. On Tuesday, the blaze had grown into what officials say is the largest in the history of Alberta. About 100 firefighters are battling the fire, though The Globe and Mail reports that they had to pull back Tuesday because of dangerous conditions on the ground.
The fire died down a bit overnight, but officials warned that dry and warm conditions could begin fueling it again. "The worst of the fire is not over," said Bernie Schmitte, manager of Alberta Agriculture and Forestry. "We're still faced with very high temperatures, low relative humidity and some strong winds."
Prime Minister Justin Trudeau offered the support of the Canadian government and urged Canadians to "unite around" Fort McMurray's catastrophe. 
Bright orange flames shot up along the main evacuation route, Highway 63, and drivers posted video and pictures of the inferno closing in on the roadway. Evacuees didn't have much time to get out of Fort McMurray; some had as little as 30 minutes' notice. 
The mad rush threw traffic into a standstill, even as fire licked at the highway shoulders and at one point crept onto the roadway, closing off the route. Drivers were desperate to break through the gridlock. "People were driving on the shoulder. There were flames maybe 15 feet high right off the highway," one evacuee told The Globe and Mail. "There was a dump truck on fire – I had to swerve around it – and there was a pickup truck on fire as well. The entire trailer park on my right was in flames. Roofs were coming down." 
Some people had to abandon their cars, reports the New York Times, as the mass evacuation led to a gas shortage. 
"There was smoke everywhere and it was raining ash," another evacuee told The Globe and Mail. "I've never seen anything like it."
Most people fled to Edmonton, Alberta's capital south of Fort McMurray. Others fled south to Anzac and Lac La Biche, a resort town. Evacuation camps were also set up near outposts at the oil-sands fields. 
No serious injuries have been reported, but the fire has already consumed an untold number of homes and a Super 8 Motel. At least one gas station blew up. 
Officials do not yet know what ignited the wildfire but say that extremely hot, dry conditions fueled its rapid spread.