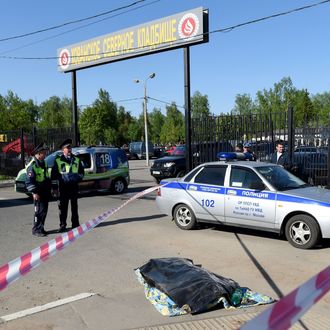 Police officers tend to a body near the entrance of Khovanskoye cemetery in southwest Moscow.
Photo: Vasily Maximov/AFP/Getty Images
As many as 3 people are dead, 25 wounded, and 50 arrested after two rival groups of gravediggers got into a massive brawl in a Moscow cemetery on Saturday, according to Russian news agencies TASS and Russia Today. The fight was apparently over which group would control lucrative burial services in southwest Moscow's Khovanskoye cemetery, which at 500 acres is the largest cemetery in Europe. Before the melee was broken up by police, participants fought each other using shovels, bricks, baseball bats, and even non-lethal handguns. RT reports that as many as 400 people participated in the brawl, though other news organizations like the BBC have put the number at around 200, and said the number killed was only 2. The cemetery workers were also apparently from rival ethnic groups from ex-Soviet Central Asia and the Caucasus, according to Russian media reports.