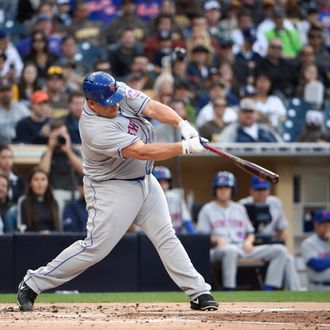 Big Sexy goes yard.
Photo: Denis Poroy/Getty Images
Baseball history was made during the Mets'$2 6–3 victory over the Padres Saturday night in San Diego when Mets right-hander Bartolo Colon became the oldest player ever — at 42 years, 349 days — to hit his first Major League home run. ESPN reports that Colon, who called the accomplishment "probably the biggest moment" of his 19-year career, used his 226th career at-bat to hit a 90 mph fastball from San Diego pitcher James Shields some 357 feet into the left-field corner of Petco Park. The rotund pitcher's trip around the bases took more than half a minute to complete, while his euphoric fellow Mets ran and hid in the clubhouse tunnel as a prank to mark the feat. At the time, the second-inning, two-run shot gave the Mets a 4–0 lead. Here's a clip of the improbable event:
And, since it sounds even better in Spanish:
What's especially fun about the homer is that the 285-pound Colon's dramatically hapless at-bats have become a fan-favorite event over the years:
Colon had been 10-for-129 in his Met career at the start of Saturday's game, and now owns a .092 batting average for his career, most of which was played in the American League where pitchers rarely bat. His record-setting blast displaced the previous oldest player to hit home run No. 1, Hall-of-Fame bird-killer Randy Johnson, who hit his first shot at the age of 40 years, 9 days. Colon also became the fifth-oldest pitcher to hit a home run, and the second-oldest Met overall, behind Julio Franco, who knocked one out in 2007 about a hundred days shy of his 49th birthday. Colon struck out in his other two at-bats in Saturday's game, but did get the win after giving up three runs over six and two-thirds innings. He's now 3–1 on the season.