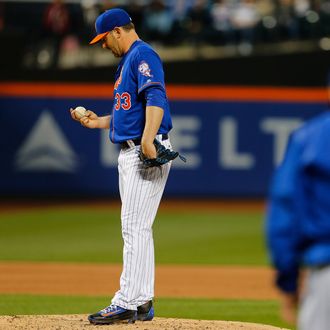 Terry Collins walks to the mound to pull Matt Harvey last night.
Photo: Rich Schultz/Getty Images
Things have not gone great for Matt Harvey since he left the mound just a little bit too late in Game 5 of last year's World Series. Entering Thursday night's game against the Nationals, his ERA had swelled to a lousy 4.93, some two runs worse than his career average. And then there was the bladder infection that made him the subject of a New York Post pun bonanza. But last night, his season reached a new low point: Harvey allowed nine runs (six of them earned) in just two and two-thirds innings in a loss to Washington, as his ERA ballooned to an ugly 5.77.
When Terry Collins finally ended Harvey's night, the pitcher heard boos from the Citi Field crowd on his way to the dugout.
Collins said after the game that he hadn't seen Harvey struggle like that before, and that the team would consider skipping his next start. Collins said Harvey might also undergo medical tests, but the righty says he feels fine physically.
The Mets manager does have a theory of what's wrong, though, and it involves Harvey's heavy workload last year. You'll recall the debate last fall over how many innings Harvey should throw in his first season back from Tommy John surgery. And thanks to a deep postseason run, the 216 innings Harvey ultimately logged were the most ever by a pitcher in his first season back from the operation. Said Collins:
"As I tried to explain to Matt again, there's some people that don't believe it – this kid went above and beyond last year," Collins said. "And I'm not sure he's recuperated from it. I'm going to stand by it. It's not an excuse. We don't make excuses here. I think it might be a reason. I think there's a difference between a reason and an excuse. That's where I stand on it. I've told Matt, I still trust him. I still believe in him. I've seen him do it. But we'll take a hard look at what the next move is going to be."
Bryce Harper of the Nationals also suggested that Harvey's workload last year could be related to his struggles this season, noting that his velocity has dropped. Indeed, so far this season, his average fastball is down by more than a mile an hour, compared to last year.
Slumps happen, but the fact that this one has lasted nearly two months — at the start of the season following last year's heavy workload — could be cause for concern. Perhaps a rest will help, or maybe a DL stint is necessary. (Or perhaps they'll find a reason to put him on the DL, if only to avoid having to skip him in the rotation when he's eligible to pitch.) But a diminished Harvey would be terrible news for Mets fans. And, for that matter, for any Yankees fans who were counting on him to save their rotation three years down the line.