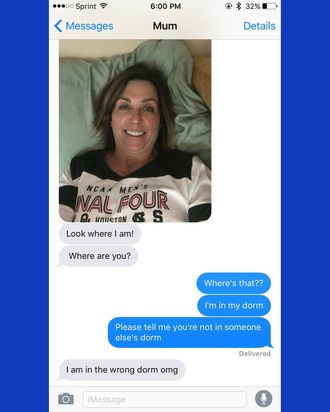 Photo: kennapilling/Twitter
Deanna Pilling thought she was doing a nice thing when she arrived on the Utah State campus to surprise her daughter, McKenna, and help her move out for the summer.
To let her daughter know she was in her dorm room, Deanna did what any mom in 2016 might: She whipped out her cell phone and sent McKenna a selfie from her bed.
There was just one problem: McKenna was in her own bed. Her mother had wandered into a stranger's bed. (They later discovered the bed belonged to a friend of McKenna's who lived in the same building.)
McKenna (again, as any daughter in 2016 might) tweeted the selfie and the subsequent texts between her and her mother, and more than 16,000 people have shared them since.
"My mom wishes she would have taken a better selfie to send me," McKenna told Fox 40, discussing the popularity of her tweet.
This isn't the first time in recent weeks that Pilling's school, Utah State University, has made headlines. The school was also host to a now-viral Snapchat love story/dance battle just last week. What's in the water out there?