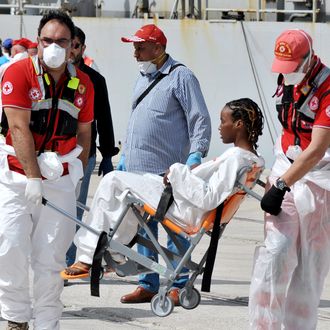 Photo: Giovanni Isolino/AFP/Getty Images
A wooden boat carrying about 500 migrants capsized in the Mediterranean Sea Thursday. That boat did not have an engine and was being towed by another vessel, also overflowing with nearly 800 people. The captain severed the line between the two, leaving people stranded in that engineless boat. Rescuers pulled only a few dozen from the water. Nearly everyone else — mostly migrants from East Africa — drowned. It was one of a handful of lethal incidents on the Mediterranean Sea last week that left an estimated total of 1,030 dead.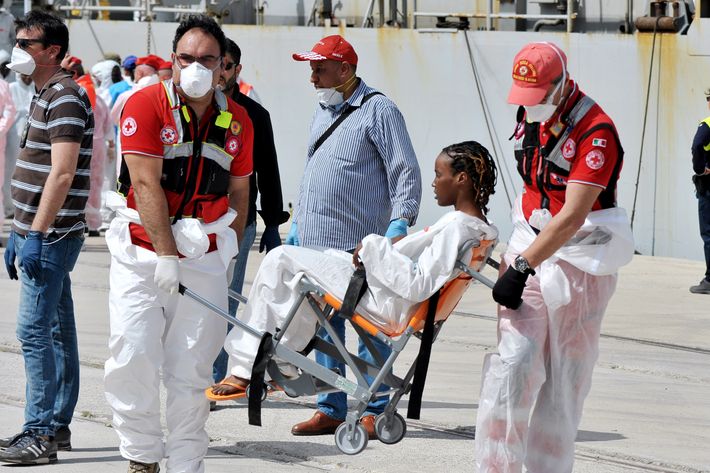 Most of those presumed dead are technically missing, drowned as flimsy, overloaded boats capsized. Officials say this may end up being a record weekly death toll; right now this is only the second time since January 2014 that more than 1,000 have died in a single month. (The last being April 2015.) Most of those killed were from East Africa — Eritreans, Ethiopians, and Sudanese, who tend to frequent this Mediterranean route from Libya to Italy. The route is more dangerous and a bit longer than that between Turkey to Greece, which many Syrian refugees take. Yet, according to the AP, officials fear that some of those fleeing places such as Syria, Iraq, and Afghanistan may start relying on this risky and circuitous route from Libya because of the crackdown in illegal crossings from Turkey as part of the EU-Turkey deal that began in March. Either way, the stream of migrants and refugees will stay steady in the warmer summer months.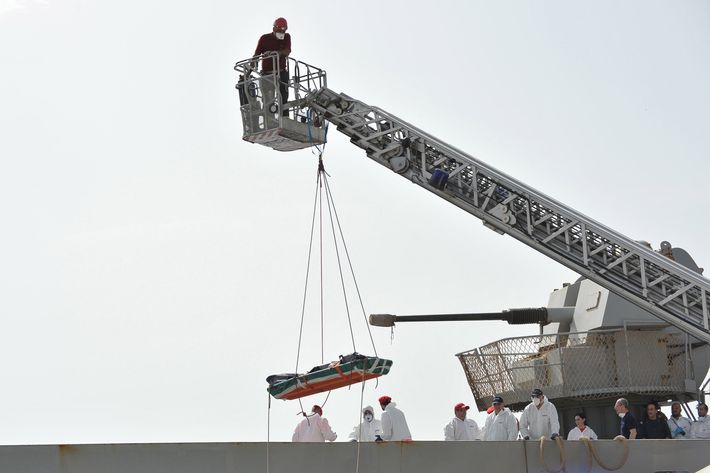 So far this year, fatalities in the Mediterranean Sea (2,500) have exceeded the number at this point last year (1,855). Last fall, the European Union launched an anti-smuggling operation along the Libya-Italy route in the Mediterranean to try to disrupt and deter human traffickers. Critics had warned that the mission wasn't really going to stop desperate people from making the treacherous journey, and it would only make the voyage more perilous as smugglers tried to avoid detection.