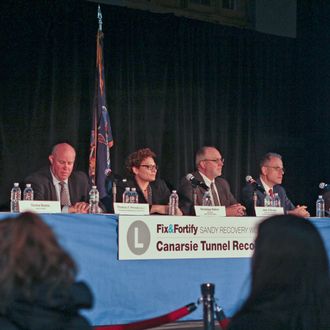 On Thursday night, the MTA took over the Marcy Avenue Armory in Williamsburg to host a community hearing on its plans to suspend the L train to complete repairs. I was walking from the subway (G) to the meeting when a young Hasidic kid, wearing a greenish plaid shirt under a black jacket, zoomed up on a razor scooter and hockey-stopped ahead of me. "Are you going to the meeting?" he asked. I told him I was. Apparently satisfied, he sped off. He made it a few yards — until a skid and a slip and a topple to the sidewalk, his body scraping the concrete. He was fine, he said. He popped back up, got on the scooter, and sprinted to the end of the block. A quick shock of pain and a swift recovery. This is not the metaphor for the L train shutdown.
That will be painful — but long and unpredictable. The meeting confirmed that. It's also, according to the MTA, unavoidable. Hurricane Sandy severely compromised the L's Canarsie tube, which runs under the East River and shuttles an average of 225,000 people a day between north Brooklyn and Manhattan.
So the MTA has two not-great options to fix it: a total L train closure between Manhattan and Bedford Avenue, lasting 18 months; or a partial suspension where subways would run between Manhattan and Brooklyn with limited service — about every 15 minutes — that will take three full years. Construction will start in January 2019 for either proposal. The MTA is holding these forums, it says, to answer questions and to take feedback from the communities that depend on this subway.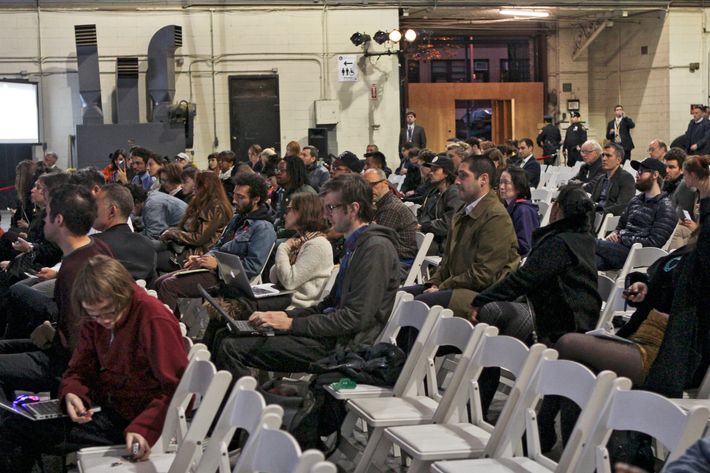 But the MTA also has a case to make, and it brought its starting lineup to do it, including Chairman Thomas Prendergast. He and other officials sat on a stage in front of the cavernous hall where community members (and, given the number of notepads, more than a few journalists) filled up rows of white catering folding chairs. NYPD officers searched everyone coming in; an army of MTA representatives had glossy brochures and sign-up sheets spread out on tables in the back. 
During the presentation, Prendergast explained the repair needs, accompanied by a slideshow of Canarsie-tube-ruin porn: Sandy flood waters, now receded; broken bolts; exposed cables. (We're allowed to ride in this now? you think.) The fixes — of which the federal government will cover $700 million as part of federal aid — will also preserve a tunnel that's getting close to 100 years old. "We're not going to have to come back hopefully for another 100 years," Prendergast said.
MTA officials outlined the pros and cons of both plans, and talked up a few station upgrades at First Avenue and Bedford Avenue. The MTA dropped more than a few hints that it wants the public to want option A, the total year-and-half shutdown — saying, for example, that this route would give the agency the power to pay incentives to finish the repair work ahead of schedule.
The audience listened, mostly quiet, applauding at points over things like expanded bus routes, or the end of shrunken G trains. Those subway contingency plans — expanded G and J and M (though, the MTA reminded the crowd, it must rebuild a part of the M in preparation) service are fairly clear. But bus routes and a potential ferry service are less settled, partly because they involve coordination with other agencies, and partly because, as with a proposed ferry terminal at 20th Street in Manhattan, that infrastructure doesn't exist just yet. 
So the MTA spoke. Then the politicians spoke, those in Congress on down to City Council. They agreed with the necessity of repairing the tube, and urged the MTA to keep constituents informed. Amid the grandstanding and eating up of public comment time to demand more meeting time for public comment, a few valid points bubbled up. Congresswoman Nydia Velázquez, whose district includes Williamsburg and part of the Lower East Side, brought up the economic impact, especially on small businesses — a third rail of a topic barely touched by the MTA in its meeting agenda.
Public comment, it turns out, would be index cards and a pencil. Fill it out, hand it in, and hope you're near the top of the pile for an MTA official to recite the question from the podium. A sampling: Someone asked if the Canarsie tube was actually safe. Another asked if the MTA really considered the option of a third tube — basically building a whole new tunnel. Someone asked if the MTA was totally confident in the timeline, and if just maybe they'd miscalculated. Answers: It's safe but needs this overhaul. Yes, not a feasible option because of time and money. "They're confident in the timeline," Prendergast responded, "and they're going to push to see if they can improve."
The community members began to trickle out. Laurie Rosenfeld, who's lived in Williamsburg for close to 50 years, came to the meeting because she's worried about her son William. He has a developmental disability. He rides the L train, knows the route. But change is hard. She wants to prepare, and prepare him. "Well," Rosenfeld says, "from what I see now it really needs to happen. I didn't know it was that bad." She and her son William were already outside the armory when the MTA finally got to her question, about meeting the needs of disabled people.
Some wandered from their seats to the back of the armory, where behind a curtain the MTA had laid out a sort of L train apocalypse museum. Plans blown up on big foam boards, resting on easels. In the center of the room, someone had apparently curated artifacts of the Canarsie tube post–Superstorm Sandy. Shorted circuits and frayed wires and rusted metal laid out and labeled — an archeological dig of a pre-shutdown civilization.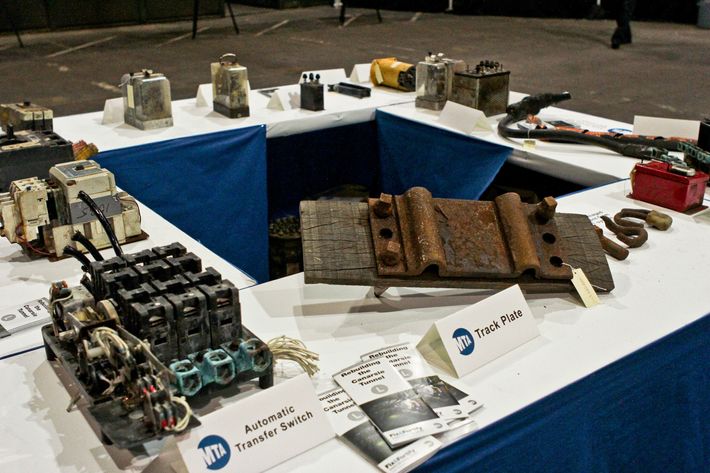 Martin Eaton, 44, who's lived in Williamsburg for five years, was hanging back in the area. He's for the partial shutdown. It's all a nightmare, but having no L train sounds far worse, even if it's slow. He says he's worried about the character of his neighborhood, if businesses can survive. He'd move if he has to, he admits. 
A civil engineer, who's lived in Williamsburg just six months, didn't want to be named as she walked out of the meeting. She said she thought people asked the right questions. But in the end, there's no stopping the plans. "Close it down," she says, "and get it done."