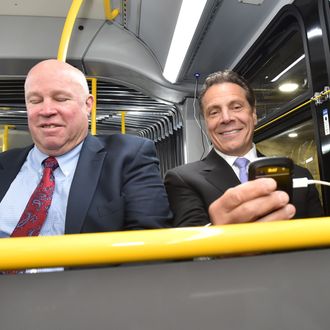 Governor Cuomo and MTA Chairman Tom Pendergast on one of the new MTA's new buses, which are equipped with USB ports.
Photo: Kevin P. Coughlin/Office of Governor Andrew M. Cuomo
Earlier this year, the MTA announced that the new vehicles in its bus fleet would be equipped with Wi-Fi and USB charging ports, and would sport a blue-and-yellow paint job that car buff Governor Andrew Cuomo said gave them "almost a Ferrari-like look." The MTA says that 2,042 of the buses will hit the road by 2020, with 75 of them set to start serving routes in Queens this year in the project's first phase. And as of yesterday, the first seven of those buses started running, giving New Yorkers their first look at the city's buses of the future.
Governor Cuomo appeared at a bus depot in Manhattan for the unveiling, and said in a statement that "we are reimagining the MTA for the 21st century and creating a transit system that will meet the needs of the next generation of New Yorkers."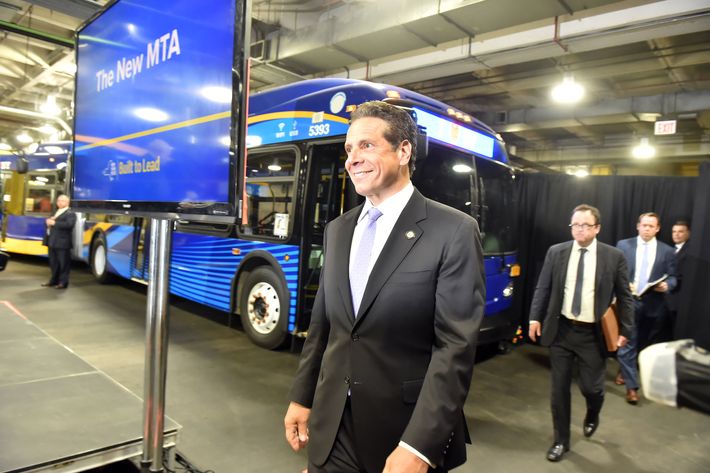 But with USB wires located above the heads of passengers, New Yorkers in need of a quick charge may want to make sure their phone wires are sufficiently long — especially if they don't want to view their iPhones upside-down while their batteries are being re-juiced.
Wire-dangling is totally going to be the new manspreading, isn't it?