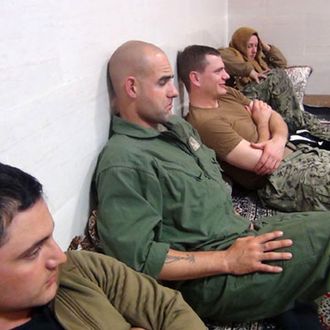 Ten U.S. soldiers were detained during the incident.
Photo: Iranian Revolutionary Guard Corps
The commander of a U.S. Navy vessel that drifted off course into Iranian territorial waters in January, leading to the detention of the ten sailors onboard and a brief but tense international incident, has been fired, the Navy announced Thursday. According to a statement carried by the Navy Times, Commander Eric Rasch was removed from his executive-officer post by Captain Gary Leigh due to "a loss of confidence" in his leadership capabilities.
Rasch's superior at the time of the incident, Commander Gregory Meyer, has been put on "administrative hold" pending a high-level review of the Navy's ongoing investigation into the events that led to the boat's seizure. Results of the investigation are reportedly expected to be released at the end of May, when more disciplinary measures are also likely to be handed down.
The two patrol boats coming from Kuwait were reportedly dealing with mechanical problems and might have drifted into Iranian waters accidentally — they were detained at Farsi Island after Iranian officials freaked out and thought the sailors were engaging in "unprofessional behavior."
The sailors were released within a day, but their capture was an embarrassment for the Navy and a headache for American diplomats. The Navy believes the incident was the result of a navigational error along with poor judgment on the part of the crew.