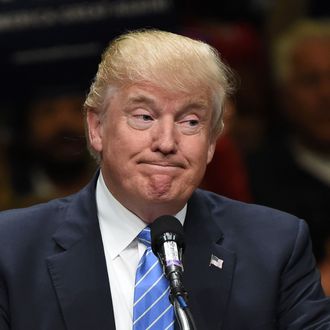 Voters don't like their options.
Photo: ROBYN BECK/This content is subject to copyright.
As voters' choices narrow in the upcoming election, their outlook is becoming increasingly bleak. According to a new poll by the Associated Press and the NORC Center for Public Affairs Research, the majority of Americans — 55 percent (including 60 percent of Republicans and 53 percent of Democrats) — say they feel "helpless" about the 2016 election. Among voters younger than 30, that number is even higher; two-thirds of young voters report feeling helpless. 
Only 13 percent of those surveyed said they feel proud about the election, and just 37 percent said they were hopeful.
To arrive at these depressing conclusions, the two organizations surveyed 1,060 adults between May 12 and 15; respondents were randomly selected using address-based sampling methods and then interviewed by phone. According to the AP, the sample was designed to be representative of the American population. And from the results, it would seem the American population has largely given up on this year's candidates:
The divisive primary season has fueled an overall sense of pessimism about the political process that underscores a widening chasm between political parties and the voters they claim to represent. Just 12 percent of Republicans think the GOP is very responsive to ordinary voters, while 25 percent of Democrats say the same of their party.

Among all Americans, the AP-NORC poll found that just 8 percent consider the Republican Party to be very or extremely responsive to what ordinary voters think. An additional 29 percent consider the GOP moderately responsive and 62 percent say it's only slightly or not at all responsive.

The Democratic Party fares only slightly better, with 14 percent saying the party is very or extremely responsive, 38 percent calling it moderately responsive, and 46 percent saying it's only slightly or not at all responsive.
In other words, the average voter feels that their party isn't taking into consideration the issues they deem important. It's this sentiment that's led to the initial rise of outsider candidates such as Donald Trump and Bernie Sanders, but as the general election approaches, at least one voter says Trump's nomination is leading the Republican party astray.
"The Republicans have gotten away from their core message of fiscal responsibility," Joe Denother, a 37-year-old who usually votes Republican, told the AP. "I feel there's an identity crisis. And with a lack of identity, it's hard to have confidence in the party."