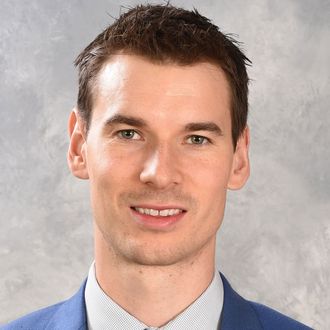 John Chayka, who's about to be named the GM of the Arizona Coyotes.
Photo: Norm Hall/Getty Images
Think for a moment about what you were doing when you were 26 — grad school, perhaps, or trying to climb the ladder at work, possibly still living with Mom and Dad, maybe some late nights out that you don't remember very well. Now compare that to the new gig of John Chayka, who's about to be put in charge of a professional sports roster. The NHL's Arizona Coyotes are expected to announce today that they're hiring the 26-year-old Chayka as the team's new general manager. Chayka, who's just two years removed from graduating from the University of Western Ontario, will become not just the youngest GM in NHL history, but the youngest one ever in the four major North American sports leagues.
As is so often the case in pro sports these days, the decision is about emphasizing statistical analysis. Chayka, who prior to joining the organization co-founded a hockey analytics firm that tracks data through an intensive video-analysis process, had initially been hired last year as the team's assistant general manager and put in charge of its analytics department. He now replaces Don Maloney, a well-respected hockey lifer, as GM.
The team's coach, Dave Tippett, is expected to have an increased role in player procurement, even as Chayka is promoted to the GM's chair. That extra input may not be such a bad idea when the general manager is a relative newbie who's younger than 13 players on the current roster.