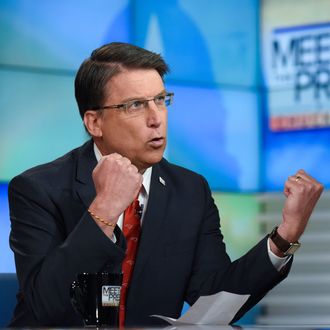 Governor Pat McCrory.
Photo: William B.Plowman/NBC/NBC NewsWire via Getty Images
North Carolina really doesn't want transgender people to have access to public bathrooms. Republican governor Pat McCrory's infamous "bathroom bill" has already cost the state hundreds of jobs. Now it could end up costing North Carolina billions in federal funding and legal fees, as the state has decided to contest the Justice Department's claim that the law violates transgender Americans' civil rights.
Formally known as House Bill 2, the controversial law allows businesses to require that transgender people use the bathroom that matches their biological sex, as established on their birth certificates. It also prohibits municipal governments in the state from enacting contradictory anti-discrimination policies. Last Wednesday, the DOJ notified McCrory that denying transgender employees the right to use their preferred bathroom in the workplace constitutes a violation of the Civil Rights Act's prohibition against "discrimination on the basis of sex." The department gave McCrory until Monday to issue an executive order halting implementation of the law, or else face a lawsuit and a potential freeze in federal funding.
McCrory responded by saying, in essence, "Sue me? Sue you!" On Monday, North Carolina filed suit against the Justice Department, accusing it of "baseless and blatant overreach."
"This is an attempt to unilaterally rewrite long-established federal civil rights laws," the complaint says.
McCrory detailed the rationale for his ongoing resistance on Sunday.

"I'm not going to publicly announce that something discriminates, which is agreeing with their letter, because we're really talking about a letter in which they're trying to define gender identity," McCrory told Fox News. "And there is no clear identification or definition of gender identity. It's the federal government being a bully."
By standing up to this "bully," North Carolina will risk losing $4 billion in federal education funding. But McCrory is apparently willing to sacrifice his state's public schools on the altar of transphobia. His attorney general, Roy Cooper, however, is not. Cooper — a Democrat who happens to be challenging McCrory in this fall's gubernatorial election — said in a statement Monday, "The governor needs to undo this law now and stop playing politics with our economy."
If McCrory continues his increasingly unpopular crusade, he may end up losing more than next year's NBA All-Star Game.