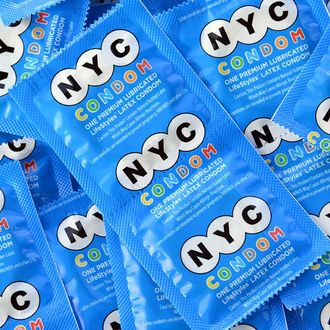 Now available at health clinics, bodegas, and the island of Puerto Rico.
Photo: NYC Health
Puerto Rico may owe a cool $422 million to its creditors, but the commonwealth is about to be rich in one thing: free NYC-branded condoms. New York City is doing its part to help stop the Zika virus and is gifting 1 million condoms to Puerto Rico. Most people get Zika via mosquito bite, but the virus lives in blood and semen and so can be sexually transmitted — which is especially dangerous for pregnant women, as it's linked to severe birth defects like microcephaly. 
Puerto Rico did just confirm the United States' first Zika victim last week, an elderly man who died from (rare) complications related to the virus. Right now Puerto Rico has close to 700 confirmed cases of the virus, but that number's expected to go up. 
As in New York, the rubbers will be given out for free in Puerto Rico. No word yet if they'll also be stocked in bars and delis. And if you're not in Puerto Rico or the city but still really want a condom with the NYC logo, you can always check out the Dominican Republic, where they've been known to be smuggled in and sold as a discount alternative to Durex.