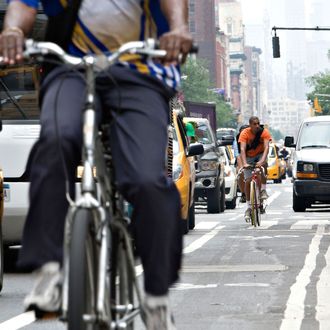 Don't block a bike lane this week. Or ever.
Photo: Daniel Acker/Bloomberg via Getty Images
Motorists and cyclists have long struggled to safely share New York City's streets, and high on the list of complaints among the two-wheeled set is that cars often block the designated bike lanes. At long last, the complaint seems to have moved the NYPD to action: This week, cops will be cracking down on drivers who obstruct those lanes and fail to yield to cyclists, issuing tickets to violators.
The blitz — basically just a seven-day ticketing surge — is part of Mayor de Blasio's larger Vision Zero initiative, designed to reduce fatalities on the city's streets. "We believe in protecting everyone on our streets," said de Blasio said in a statement. "This targeted initiative will make sure New Yorkers on bikes have clear bike lanes and safe conditions as more and more people take to the streets." NYPD transit chief Thomas Chan said that focused enforcement like this can be more effective than an open-ended campaign. (Which sounds a little questionable, to be honest. But that's the story the cops are telling.)
According to the Department of Transportation, New York saw a a 320 percent increase in daily cycling between 1990 and 2014, and the warmer weather tends to lead to a bump in the number of bikes on the road.
The initiative runs through Friday, with 1,500 traffic officers on the lookout for misbehaving motorized vehicles. Be careful out there, everyone.