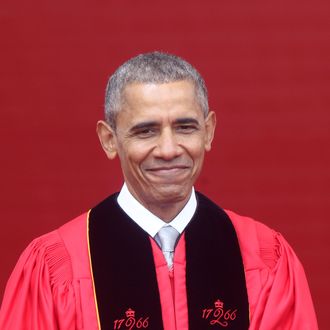 Hail to the shade-queen-in-chief.
Photo: Steve Sands/2016 Steve Sands
On Sunday, President Obama gave a commencement speech at Rutgers University that also happened to be a scathing condemnation of Donald Trump. Without mentioning the presumptive nominee's name even once, the president spoke out against his "anti-intellectualism" and isolationist politics. "When our leaders express a disdain for facts, when they're not held accountable for repeating falsehoods and just making stuff up, when actual experts are dismissed as elitists, then we've got a problem," he said. He went on:
"Facts. Evidence. Reason. Logic. An understanding of science. These are good things. These are qualities you want in people making policy. These are qualities you want to continue to cultivate in yourselves as citizens."

"We traditionally have valued those things, but if you were listening to today's political debate, you might wonder where this strain of anti-intellectualism came from," he continued. "So class of 2016, let me be as clear as I can be: in politics and in life, ignorance is not a virtue. It's not cool to not know what you're talking about. That's not keeping it real or telling it like it is. That's not challenging political correctness, that's just not knowing what you're talking about. And yet we've become confused about this."
He also referenced Trump's outlook on foreign policy, specifically his plan to build a wall along the Mexican border:
"The world is more interconnected than ever before, and it's becoming more connected every day. Building walls won't change that. The point is: To help ourselves, we've got to help others, not pull up the drawbridge and try to keep the world out."
"The biggest challenges cannot be solved in isolation," he said, including terrorism. To that end, Trump's suggestion that Muslims be "isolated" or "disparaged," Obama said, "is not just a betrayal of our values, that's not just a betrayal of who we are, it would alienate the very communities at home and abroad that are our most important partners in the fight against violent extremism."
Although Obama didn't explicitly name Trump, in many ways his remarks were the antithesis of Trump's foreign-policy speech, in which Trump said he's "skeptical of international unions that tie us up and bring America down." Hail to the shade-queen-in-chief, whose sick burns will be sorely missed.