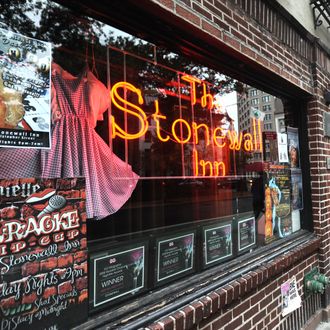 Stonewall Inn, all aglow.
Photo: New York Daily News/2013/Daily News L.P. (New York)
The Stonewall Inn, the Greenwich Village bar that played a crucial role in the gay-rights movement, was given landmark status by New York City last year, but the Associated Press reports the Obama administration will do even more to distinguish the site. According to "two individuals familiar with the administration's plans," the president will name the bar the first national monument for gay rights — he's reportedly considering proposals that would involve cordoning off Christopher Park, a small sliver of land near Stonewall Inn, and surrounding areas.
Federal officials, including Interior Secretary Sally Jewell and National Park Service Director Jonathan Jarvis, are traveling to New York for a May 9 meeting about the proposal, according to the Washington Post. City officials are still looking into the land's title, but barring any complications, Stonewall should be declared a national monument as early as next month — just in time for Pride Month and New York City's famous parade.
The Stonewall Inn was the site of a police raid in June of 1969 — when patrons fought back and stormed the surrounding streets, they sparked protests in New York City and around the country that are largely seen as the start of gay-rights activism. President Obama mentioned the bar in his 2013 inaugural address when he said the principle of equality should guide the country, "Just as it guided our forebears through Seneca Falls, and Selma, and Stonewall." (His was the first mention of gay rights in an inaugural address, according to the AP.)
New York lawmakers have long pushed for the national-park designation, and last year, Congressman Jerrold Nadler and Senators Kirsten Gillibrand and Chuck Schumer introduced legislation that said as much. "It's time for the Stonewall Inn to take its place in the panoply of sites and events that were sparks in the march to the kind of freedom and equality that is the very wellspring of the American Dream," Schumer said. "Making the Stonewall Inn site a unit of the National Park system is the right thing to do."