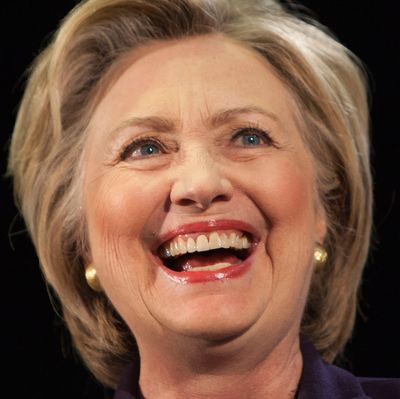 Once thought of as an albatross for Clinton, Obama is now the wind beneath her wings.
Photo: Getty Images
Back in the days when the 2016 presidential campaign was still in formation, many Democrats feared Barack Obama would become an albatross for the Democratic nominee given poor presidential-job-approval numbers, scary-high "wrong track" sentiment, and natural fatigue with the incumbent's party.

Here's how a preview of the approaching campaign put it in late 2014:
[T]he attack against Clinton that has emerged the earliest is her obvious ties to the president and her tortured attempts to create daylight between herself and her former boss. "There isn't a dime's worth of difference between Barack Obama and Hillary Clinton. She will continue foursquare … and put forward Barack Obama's policy in a third and fourth term," is how Rep. Michele Bachmann (R-Minn.), a 2012 also-ran positioning herself as the Anti-Hillary, put it to Politico in early October.
The general-election risk of Clinton being perceived as running for "Barack Obama's third term" rose when she suddenly faced a serious challenge from Bernie Sanders and chose to associate herself closely with the incumbent strictly because it made sense in the dynamics of Democratic primaries where constituencies (e.g., African-Americans) particularly fond of Obama became critical to her ability to win. Much as she'd need to "pivot to the center" after Sanders generated left-bent pressure during the nomination contest, would she also need to pivot away from the controversial incumbent and once again become her "own woman"? 
It's now beginning to appear, however, that such fears were misplaced. Barack Obama's steadily improving job-approval ratings as he approaches the end of his presidency are suddenly looking less like an albatross for Clinton and more like the wind beneath her wings. It's been a gradual rise; last year, his average job-approval number in weekly tracking from Gallup was 46 percent. This last week, it was up to 51 percent — precisely where it was the week he was reelected in 2012.  
Moreover, Obama's particular areas of political strength are well synchronized with constituencies Clinton should and must be able to attract and energize in a general-election contest with Donald Trump. According to NBC, Obama's job-approval ratings among Sanders's primary voters is 82 percent; it's 64 percent among those ages 18-34, and 73 percent among Latinos, a group that has, on occasion, felt tepid toward him. Add in his 90 percent approval rating from African-Americans, and it's obvious the so-called Obama Coalition is alive and well. So now, instead of pivoting away from Obama after she's won the nomination, Clinton can continue her close association with the incumbent as an asset in the general elections, as well as the primaries.  
If Obama's job-approval ratings continue to rise, it could be Republicans and Donald Trump who have an incumbency problem given their relentless and redundant attacks on Obama. Because Obama-hatred and Clinton-hatred are Trump's most durable bonds with a Republican Party that is otherwise ambivalent about his candidacy, we'll probably hear a surfeit of both during the Republican Convention. For once, that could be music to the long ears of many Democratic donkeys.