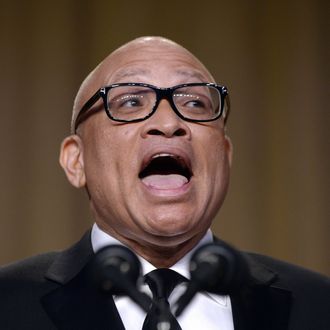 Yo, Larry, you did it!
Photo: Olivier Douliery-Pool/Getty Images
This past Saturday in D.C., the best-paid members of the fourth estate partied with the politicians they're supposed to keep in check at an annual gala called the White House Correspondents' Dinner. Comedy Central's Larry Wilmore treated the event with all due disrespect, delivering a 20-minute set that inspired squirms, boos, and a profane gesture from CNN's Don Lemon.
And then Wilmore called the leader of the free world a "nigga."
"When I was a kid, I lived in a country where people couldn't accept a black quarterback," Wilmore said, in his monologue's one note of sincere reflection. "And now to live in your time, Mr. President, when a black man can lead the entire free world."
Wilmore then turned to Obama and, while pounding his chest, said, "Yo, Barry, you did it, my nigga!"
Pearls were clutched, and think pieces were written. The Washington Post's Jonathan Capehart argued that using that word as a term of affection in the barbershop is one thing — using it to address the American president is another. "Obama is president of the United States and should have been accorded the respect that comes with the office — especially by someone who considers himself family," Capehart wrote. Al Sharpton agreed.
But the president himself wasn't troubled by the remark. On Monday, White House press secretary Josh Earnest said he had spoken with Obama about the joke and the president "said that he appreciated the spirit of the sentiments that Mr. Wilmore expressed."
"I take Mr. Wilmore at his words that he found that to be a powerful transformation just in his lifetime, and something he seemed to be pretty obviously proud of," Earnest added.