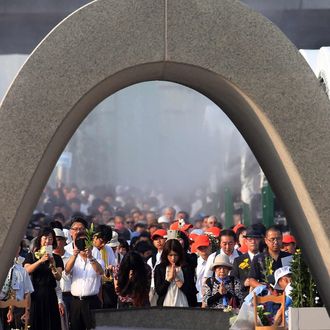 Peace Memorial Park in Hiroshima.
Photo: Jiji Press/AFP/Getty Images/This content is subject to copyright.
Later this month, President Obama will become the first sitting U.S. president to visit Hiroshima, the White House announced on Tuesday. The visit comes as one stop on a weeklong trip to Vietnam and Japan, during which the president plans to tout America's commitment to increasing diplomatic, economic, and security engagement with Asian nations, ahead of Obama's final G-7 Summit.
The president has no intention of "revisiting" America's decision to obliterate 129,000 of the city's people with an atomic bomb in 1945, according to a Medium post by deputy national security adviser Ben Rhodes. Instead, Obama "will offer a forward-looking vision focused on our shared future." Specifically, the president will use the visit to "reaffirm America's longstanding commitment — and the President's personal commitment — to pursue the peace and security of a world without nuclear weapons," and "to symbolize how far the United States and Japan have come in building a deep and abiding alliance."
Last month, John Kerry became the first secretary of State to step foot in Hiroshima.
"It tugs at all of your sensibilities as a human being," Kerry said of his visit to Peace Memorial Park. "It reminds everybody of the extraordinary complexity of choices in war and of what war does to people, to communities, to countries, to the world."