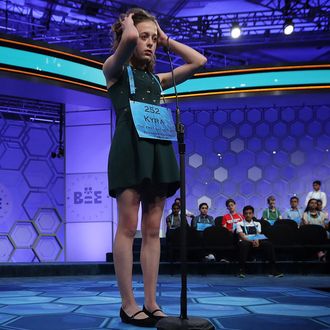 Photo: Alex Wong/Getty Images
There are few forms of online pedantry more annoying than a spelling correction. Spelling errors are not a huge deal, but they still feel very embarrassing. (Full disclosure: In sixth grade, I was runner-up in a spelling bee after I misspelled "embarass" [sic].)
But once in a blue moon there is a very good spelling correction. Take last night, for instance, when the Scripps National Spelling Bee ethered someone so hard that they had to delete their Twitter account.
Questioning why the bee has a comfort couch, where children go to cry after they lose, Kyle Chapman told the Bee's account that they need to "quit teaching kids it's okay to loose."
The Bee struck back.
Simple but effective. Chapman's Twitter account has since disappeared, though a cached version features a banner image that reads "proud to be an asshole." We've reached out to him for comment and will update if we hear back.