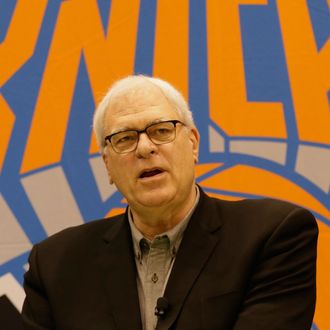 Phil Jackson is crossing the country, but not in search of a coach.
Photo: Steven Freeman/NBAE via Getty Images
The Knicks need a head coach, and the New York media have been obsessing over whom team president Phil Jackson should hire to finally turn the team into a consistent winner. Could David Blatt be the guy? Or Mark Jackson? Might they just give the job to interim coach Kurt Rambis? Why isn't Brian Shaw being considered? And now even Frank Vogel, who reached a couple of conference finals in Indiana, is available. But while the speculation grows and the situation becomes more urgent as other teams look to fill their own coaching vacancies, Jackson is … elsewhere.
He reportedly left town over the weekend, and on Tuesday, he tweeted a picture of a Thai restaurant in Sioux City, Iowa.
Jackson's brother told a TV station that he'd been visiting Phil in New York, and that the Knicks president is taking him home to Idaho. Jackson reportedly is then heading to Montana, where he has a ranch at Flathead Lake.
And while in theory Jackson can communicate with candidates or others in the organization from anywhere, ESPN reports that league sources say "some involved in the Knicks' coaching search have been informed that Phil is away at the moment. The implication is that the search is on hold for now."
As the Kings and Rockets continue their coaching searches (and the Pacers get set to start their own), Knicks fans are anxious about the team's future, and the local press has everything Jackson does (or doesn't do) during the process under a microscope.
But Jackson? He seems pretty immune to criticism, and comfortable running the search on his own terms and his own timeline. Here's a photo he tweeted Wednesday, taken in Nebraska:
The Post suggests he's headed to Montana to clear his thoughts. Said one associate of Jackson's to the paper on where he is in the process: "Still thinking it through."
There can't be much doubt about that.