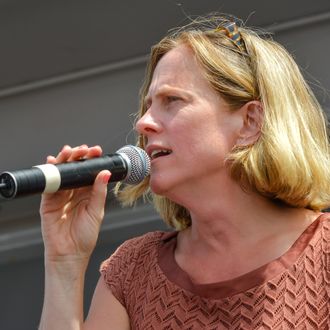 Queens borough president Melinda Katz lead the charge.
Photo: Albin Lohr-Jones/Pacific Press/Getty Images
A run-down plaza at the corner of Queens Blvd. and Union Turnpike will be restored and dedicated to the borough's women thanks to a push by Queens Borough President Melinda Katz. The plaza was once home to the controversial Triumph of Civic Virtue, which depicts a naked guy holding a sword trampling two women meant to represent the sirens Vice and Corruption, and which some have called sexist. The renovation, which will cost a whopping $720,000 and is scheduled to be finished next spring, will instead install landscaping, pleasant places to sit, and presumably some sort of monument to women.
The Triumph of Civic Virtue actually started its life in the 1920s in front of City Hall in Manhattan, but it was moved to Queens in 1941 for a different sort of political reason: Mayor Fiorello LaGuardia — who reportedly called the statue "fat boy" — got tired of looking at its naked posterior. (This was actually the reason; we checked.) So he had it packed up, fat butt and all, and carted off to Queens.
According to the New York Daily News, the statue was a recurring point of contention in the neighborhood as a progression of borough presidents tried — and failed — to have it removed. The Triumph was finally dislodged from its public pedestal in 2010 when the government managed to have it taken down and sent off to Green-Wood Cemetery in Brooklyn.
The dedication of the plaza to women is the culmination of more than 30 years of effort. And as the Gothamist points out, a statue of a woman would be a welcome addition to the city; out of the 150 historical statues in New York City, only five — five — are of women.