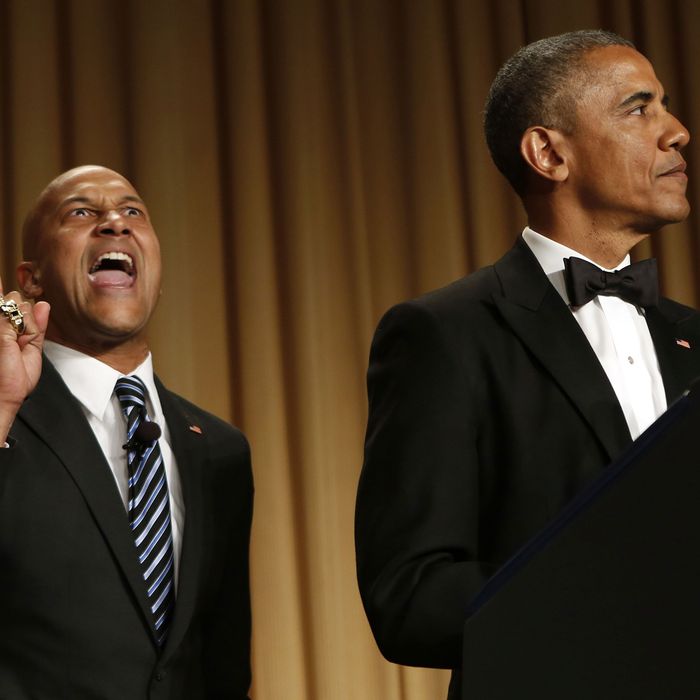 President Barack Obama with comedian Keegan-Michael Key, playing "Luther, Obama's anger translator," 2015.
Photo: Yuri Gripas/AFP/Getty Images
Last year, President Obama delivered his speech at the White House Correspondents' Dinner with his "anger translator," who interjected punchy insults between the president's staid remarks. The routine culminated with Obama growing so agitated discussing climate change — "Miami floods on a sunny day, and instead of doing anything about it, we've got elected officials throwing snowballs in the Senate!" — that his anger translator tries to calm him down. The subject of the joke — a speech earlier that year by Senator James Inhofe, who chairs the Committee on Environment and Public Works, using the existence of snow in Washington in February as evidence against the theory of anthropogenic global warming — came up again in closed-door remarks to a party fundraiser that leaked into the press. At Sunday's commencement address at Rutgers, Obama dispensed with all restraint. He openly mocked Inhofe's pseudo-scientific ignorance:
Every day, there are officials in high office with responsibilities who mock the overwhelming consensus of the world's scientists that human activities and the release of carbon dioxide and methane and other substances are altering our climate in profound and dangerous ways.

A while back, you may have seen a United States senator trotted out a snowball during a floor speech in the middle of winter as "proof" that the world was not warming. (Laughter.) I mean, listen, climate change is not something subject to political spin. There is evidence. There are facts. We can see it happening right now. (Applause.) If we don't act, if we don't follow through on the progress we made in Paris, the progress we've been making here at home, your generation will feel the brunt of this catastrophe.

So it's up to you to insist upon and shape an informed debate. Imagine if Benjamin Franklin had seen that senator with the snowball, what he would think. Imagine if your 5th grade science teacher had seen that. (Laughter.) He'd get a D. (Laughter.) And he's a senator! (Laughter.)
The contempt Obama hid beneath a comedy routine last year is now the actual text of his remarks. He's actually calling out a Senate committee chairman for being so ignorant on his supposed issue of expertise that he would fail elementary school. Anger translation is no longer required.