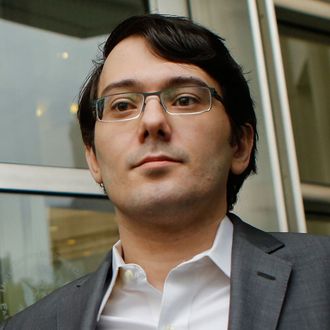 Shkreli outside court on Tuesday.
Photo: Eduardo Munoz Alvarez/Getty Images
Everyone's favorite "pharma bro" Martin Shkreli appeared in court on Tuesday — rocking some eyewear — and got some bad news. Prosecutors said they plan to file additional charges against the former CEO of Turing Pharmaceuticals, beyond those he's already facing for a "Ponzi scheme" in which he allegedly stole stock from biotech company Retrophin to pay down debts he owed to investors. Shkreli pled "not guilty" to those original criminal counts last year.
If the government does file new charges, they will reportedly also relate to Shkreli's actions at Retrophin. Of course, Shkreli's most infamous act is jacking up the price of Turing's drug Daraprim — used to treat infections in people with HIV or cancer — by 5,000 percent. But none of the charges have anything to do with that.
Shkreli's camp took the news pretty well. "I think today was a good day for Martin Shkreli," his attorney told reporters. "We do not think the [new] indictment will change in any way or affect Mr. Shkreli in any way. I don't want to talk about an indictment that I have not seen."
Or, if you prefer mixed metaphors:
According to The Wall Street Journal, prosecutors will decide within a month if they'll try to indict the ex-CEO on these new charges. Shkreli's punchable face is due back in court on June 6.