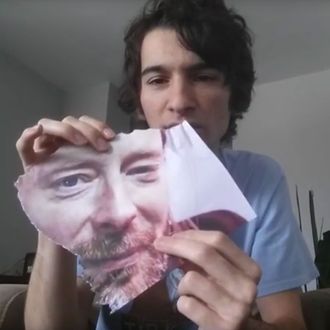 Radiohead fans on Reddit are eating their … well, their pictures of Thom Yorke, after vowing to do so if the band released a new album last week.
"I'm not exactly sure why I'm offering again aside from my own twisted enjoyment and a coping method to take my thoughts off the new record," wrote one Redditor, who was joined, inexplicably, by a dozen more. "If it happens to be released or announced tomorrow, I will eat a picture of Thom Yorke in order to apologize to all the May 6 believers I've doubted. My fate is in the bands hands now."
And then A Moon Shaped Pool dropped on Friday. Since then fans have been sharing videos making good on their promise.
Yum.
This culinary innovator went for a Thom Yorke smoothie.
Creeps. Every last one of 'em.