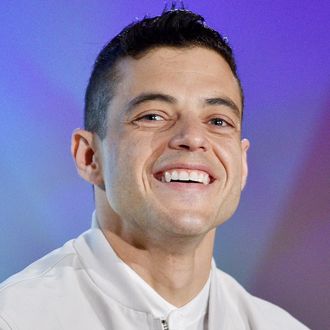 Photo: Bryan Bedder/Getty Images
A few months ago, Rami Malek — first-tier Tumblr boyfriend and star of the USA network show Mr. Robot, in which he plays a paranoid hacker combatting a multinational corporate conspiracy — seemed to go full Method in a series of paparazzi photos in which he stood next to a parking meter and looked around suspiciously.
The photos went semi-viral among Malek's fans, in part because they're funny and in part because, well, if you toss a Rami Malek photo toward Twitter or Tumblr, it will flower into a full blossom of meme-ry:
But it was unclear: What was Malek doing? Had the parking meter finally forced him to reckon with his own cog-like status in the great crushing machinery of capital? Malek has not spoken about these paparazzi shots before now, but this past weekend, speaking with a Select All reporter at the Peabody Awards, he broke his legendary silence:
"I thought there was a camera in there staring at

 

me!"
Thank you, Rami. Keep fighting the good fight.