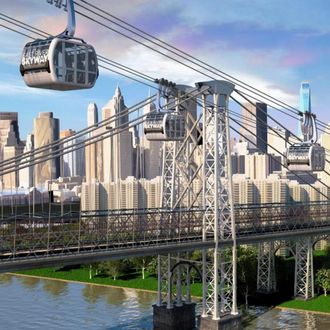 A rendering of the proposed gondola system.
Photo: East River Skyway/CityRealty
You may recall that, back in 2014, CityRealty president Daniel Levy proposed a gondola over the East River that would transport passengers from Williamsburg to the Lower East Side. As evidenced by the lack of cable-suspended pods currently hanging over the river, the plan never came to fruition. But with the looming L train apocalypse potentially forcing Brooklynites to find a new way to commute into Manhattan, Levy is still trying to find a way to get the urban gondola system, dubbed the East River Skyway, built.
DNAinfo reports that Levy has been drumming up support and funding for the idea, which he doesn't think is as outrageous as you might. Work on the L train could begin as early as 2019, and Levy says getting the thing up and running by then is "not going to be easy" but is also "certainly not impossible." He pointed to a similar gondola system built on a time crunch in advance of the 2012 London Olympics. "It's certainly well within reach."
Levy says the gondola system would have the capacity to transport about 200,000 passengers each day from Williamsburg to the Lower East Side. Cars would arrive every 30 seconds, and the trip would take five minutes. (For comparison, the L train carries about 300,000 people between Brooklyn and Manhattan daily.)
Levy said the project would cost up to $134 million and he's looking to fund it entirely through private investors. He says the stations themselves would require the biggest investment. Originally, the plan called for one station above Delancey Street and one on the Williamsburg waterfront. But because of the potential L train shutdown, there's now a plan for a second Brooklyn station, at the base of the Williamsburg Bridge, near the bus depot there. (It seems worth noting that there are already stations on the J, M, and Z subway lines on either side of the bridge.)
Levy's thought this through to the point of setting a price for a monthly pass: $25. But just to be safe, regular L train riders may want to consider a backup plan for getting into Manhattan in 2019 and beyond.