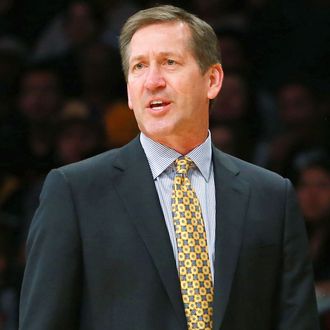 The Knicks have zeroed in on Jeff Hornacek to be their next coach.
Photo: Victor Decolongon/Getty Images
For months, the conventional wisdom among Knicks observers has been that Phil Jackson would likely hire someone he's already worked with to be the Knicks' new coach — mostly because he'd said so himself. "Only people I probably know will be in the interview process," he told reporters in April. But Jackson's reportedly decided on a new coach, and it's an unexpected one who doesn't meet that criterion: Jeff Hornacek, the former player and Suns coach. Not only doesn't he have a previous relationship with Jackson, but he has also never run the triangle offense Jackson used during his own coaching days and has tried to install in New York.
Hornacek's hire isn't official yet, but ESPN reports that the Knicks have informed other candidates (including Jackson's close friend Kurt Rambis, who'd been serving as the interim coach) that they've settled on him. There had been two other known candidates: former Cavs coach David Blatt and former Pacers coach Frank Vogel.
Hornacek spent roughly two and a half seasons as the coach of the Suns, compiling a 101–112 record before the team fired him in February after they lost 19 of 21 games. He was the runner-up for the league's Coach of the Year award in 2014 after lifting the Suns from 25 to 48 wins. Hornacek's Phoenix teams ran a fast-paced attack that had little in common with the triangle, a complicated (and some say outdated) system that relies on spacing and ball movement and is designed to allow players to react to the defense.
According to reports, it's unclear whether the Knicks would run the triangle (or perhaps a hybrid version of it) under Hornacek, though the Post suggests that if they do, Rambis (whose future is unclear at the moment) could spend the summer tutoring Hornacek. But abandoning it would mark a major shift for Jackson. He'd been so committed to the system that, according to The Wall Street Journal, he fired former coach Derek Fisher in part because he allowed players to deviate from it when things weren't working. And as recently as last month, Rambis said management intended to pursue players who fit the system this summer, while Jackson himself said he was committed to it and planned a so-called "triangle mini camp" for returning players.
We'll likely know more about Jackson's thinking soon, if and when Hornacek is introduced as the new coach. In the meantime, we can only wonder if he had a change of heart during his recent thought-clearing trip to Montana.