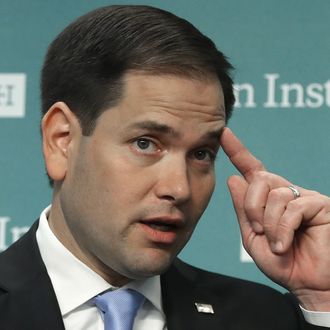 So he got a little mad.
Photo: Win McNamee/2016 Getty Images
Marco Rubio took a leaf from the book of one of his former political rivals Monday night, when he staged a small Twitter meltdown in protest of a Washington Post article. The article in question, published Monday, declared — based on the word of Trump himself — that Marco Rubio is not on Trump's vice-presidential short-list and called him "a bit at sea in terms of his next step politically."
"Rubio, according to conversations I've had with people close to him, is sort of betwixt and between when it comes to his next move," writes the Post's Chris Cillizza. "What's next is the harder nut to crack."
Evidently Rubio took issue with the characterization. After scanning the article, he took to "Twitters" to dispel with the fiction (which is not, in fact, a thing one can do) that the Post knows what it's talking about.
Not content to simply rail against the Post, Rubio threw in some scathing gym-related sarcasm.
Then, in a very mature and responsible move, he checked himself.
You be careful with that dosage, Marco.