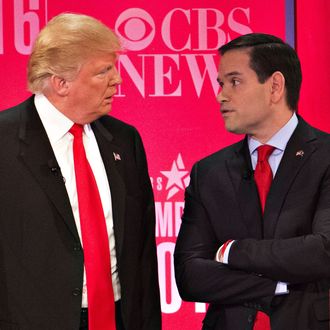 Best friends? Best friends.
Photo: Daniel Acker/Bloomberg via Getty Images
Marco Rubio is nothing if not flexible. After calling his former primary rival Donald Trump a "con artist," an "embarrassment," and "a person that has no ideas of any substance on the important issues," he has finally made it through the stages of grief for his own campaign and is prepared to stand behind the Republican nominee at the party's July convention in Cleveland.
In an interview with CNN's Jake Tapper set to air on Sunday morning, the man once belittled by the Donald as "Little Marco" and "Mr. Meltdown" explained that the prospect of a Hillary Clinton presidency so horrified him that he'd happily stand by his bully, releasing his delegates to vote for Trump. He's even willing to speak on Trump's behalf at the convention if it would please the Duke of Orange.
"I want to be helpful," Rubio said. "I don't want to be harmful because I don't want Hillary Clinton to be president."
The junior Florida senator acknowledged to Tapper that his policy differences with the real-estate tycoon and reality-TV star are "well understood."
"That said … I don't want Hillary Clinton to be president. If there's something I can do to help that from happening, and it's helpful to the cause, I'd most certainly be honored to be considered for that." In case you didn't catch it, Rubio really, really doesn't want Hillary Clinton to be president.
Still, his sudden willingness to help out is a pretty big turnaround for a guy who, in March, said it was "getting harder every day" to support Trump as the nominee.
Don't worry, Little Marco. It gets easier — just ask Chris Christie.