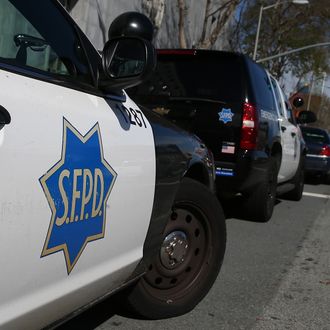 A SFPD cruiser.
Photo: Justin Sullivan/2014 Getty Images
The chief of San Francisco's police force has resigned just hours after an officer shot and killed a 27-year-old black woman. According to the San Francisco Chronicle, Mayor Ed Lee announced in a brief news conference on Thursday that he had asked Police Chief Greg Suhr to step down in order to help "heal the city" after a series of incidents that had undermined public confidence in the police.
Suhr's tenure at the helm of the SFPD, which began in April 2011, was marked by controversy over the police force's dealings with the African-American community, the revelation of racist and homophobic text messages exchanged among his officers, and a rash of fatal police shootings, of which Thursday's was the third in six months.
Angry San Franciscans had been demanding Suhr's resignation for weeks, with five protesters going on a hunger strike and crowds as large as 1,000 marching on City Hall.
"The progress we have made has been meaningful, but it hasn't been fast enough," Lee said of Suhr's work. He went on, "I have previously expressed confidence in Chief Suhr because I know he agrees with and understands the need for reform. But following this morning's officer-involved shooting and my meeting with Chief Suhr this afternoon, I have arrived at a different conclusion to the question of how best to move forward."
On Thursday morning, a police sergeant shot and killed a woman who was driving a suspected stolen car. According to the Chronicle, there were no immediate signs that the woman was armed or driving the car toward the sergeant and his partner when he shot her. The names of the woman and the officers involved in the shooting have not been released.
This and other recent shootings, such as the December 2 killing of stabbing suspect Mario Woods, which was caught on video, have sparked outrage in the city. Critics have accused police of being too quick to fire their guns, especially at minorities.
Lee named Toney Chaplin, a deputy chief who was involved in the recent launch of a transparency unit at the SFPD, as acting police chief.