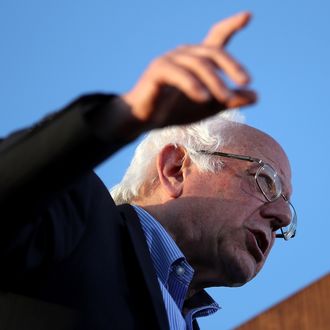 Just over here un-rigging the system.
Photo: Justin Sullivan/2016 Getty Images
On Sunday, Bernie Sanders stepped up his fight against the Establishment, and in California, so did his supporters. According to the Los Angeles Times, Sanders backers have filed a federal lawsuit requesting voter registration to be extended past the state's May 31 deadline until June 7 — the day of the primary.
The suit's plaintiffs, which include two Bay Area voters, the American Independent Party (which has had its own registration woes in recent weeks), and an organization called the Voting Rights Defense Project — an organization campaigning to increase voter turnout for Sanders — allege voters don't understand the rules to register for the primary. Registrars of voters in two counties as well as Secretary of State Alex Padilla are named as defendants.
"There's mass confusion," William Simpich, the Oakland civil-rights attorney who filed the suit, told the Times. "Mistakes are being made. This is a situation that really shouts out for some uniformity." 
What he means is that, according to the lawsuit, officials in some of California's 58 counties don't do an adequate job of informing their constituents about the registration process. Democrats have opened up their primary to independent voters, or those registered with "no party preference." But according to Simpich, not all independent voters are aware that they can vote in line with a party. From the Times:
The suit focuses on whether "no party preference" voters who intend to cast ballots by mail understand they can ask for a ballot from one of the three parties that allow them to cross over and participate in the race for president: the Democratic Party, the Libertarian Party, and California's American Independent Party.

If they do not make the request, those voters will receive a ballot with a blank space where partisan ballots list the presidential candidates.
As of last week, the Times points out, only 9 percent of "no party preference" voters in Los Angeles County had requested — and been mailed — a ballot for the Democratic party; in Orange County, only 23 percent of "no party preference" voters have asked for partisan ballots.
Sanders has good reason to be concerned that California voters with "no party preference" might not know they can vote for Democratic candidates — his support among independents has given him a boost in almost every Democratic primary to date. California is a particularly crucial primary for Sanders; at this point, it's all but impossible for him to win the required number of delegates to be the Democratic nominee, but his campaign is hoping he'll arrive in Philadelphia having won enough delegates to influence the party's agenda.