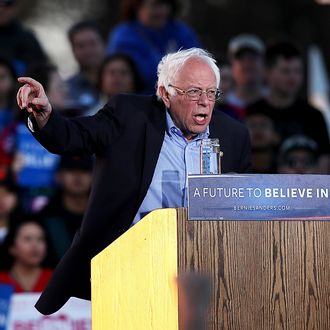 "It is far too late for Establishment politics and colonial Oversight Boards."
Photo: Justin Sullivan/Getty Images
There's plenty for a democratic socialist to hate about the new deal for resolving Puerto Rico's debt crisis. The agreement reached by the Obama administration and Speaker Paul Ryan last week will slash the island's minimum wage and subjugate the territory's local governments to an Oversight Board — one that will be dominated by Republicans and legally bound to act "in the best interests" of Puerto Rico's creditors. Oh, and just to make sure the deal isn't tainted by any hint of democratic legitimacy, no one who has ever been elected to represent the Puerto Rican people will be allowed to serve in this shadow government.
Thus, it isn't shocking that Bernie Sanders is railing against the deal.
"I am urging the Senate Democratic Caucus to make it clear to the Republican leadership that this legislation is unacceptable and will not be supported by Senate Democrats," Sanders wrote in a letter to his colleagues in the upper chamber. "In my view, we must never give an unelected control board the power to make life and death decisions for the people of Puerto Rico without any meaningful input from them at all."
But there's a strong argument for not letting the democratically legitimate become the enemy of the good. True, the current deal enjoys the support of such nefarious right-wing organizations as Americans for Tax Reform, but it also has the backing of the Jubilee USA Network, which represents virtually all of Puerto Rico's religious leaders.
And there's a lot for a Puerto Rican priest (or any of the island's residents) to like about the deal. First and foremost, the territory can't wait until the political revolution for some form of financial relief. At present, the Puerto Rican government can't fund its pensions or finance basic services, like fuel for school buses and police cars. And this July, the island will fall another $1.9 billion behind on its debt payments. Puerto Rico needs debt-restructuring yesterday — which is to say, it needs a form of debt relief that congressional Republicans can vote for right now.
Even the current plan, which establishes a pseudo-colonial shadow government tasked with trading debt haircuts for austerity measures, is running into a wall of reactionary opposition. Some hedge funds would rather see Puerto Rico pull a Soylent Green on its elderly than fail to pay its debts in full, and they're bankrolling a massive lobbying effort that's put the fear of God (and/or primary challenges) into much of the House GOP. The prospects for a more Sanders-friendly debt deal look pretty bleak.
And, as Felix Salmon argues, rule-by-appointed-technocrat has its upsides:
In the coming debt negotiations, the Oversight Board—which is temporary, not permanent, and will probably feature a bunch of Wall Street debt-restructuring types—will essentially offer to swap creditors' existing bonds, which will never get paid back in full, for new securities. Those new bonds will have a much lower face value, in total, but also a much lower chance of default.

Bondholders will only take the deal if they believe that the new bonds, unlike the old bonds, will be paid back in full. And since they've been burned by a succession of elected governments, an unelected Oversight Board is exactly the kind of reassurance they need that they're not just giving up claims for nothing. [emphasis added]
Salmon also notes that the board's mandate to act "in the best interests of creditors" is defined rather loosely: A restructuring agreement is in a bondholder's interest if it pays out more than "available remedies under the non-bankruptcy laws and constitution of the territory." Which is, essentially, more than nothing.
Plus, the Oversight Board has other, more populist mandates. Among these is a requirement that it provide adequate funding for "essential public services" and the public pension system.
Nonetheless, Sanders's full-throated opposition to the deal is valuable: It will give Puerto Rican voters a chance to register their views of the agreement, when they chose between Sanders and Hillary Clinton — who supports the deal with reservations — in the island's June 5 caucus.