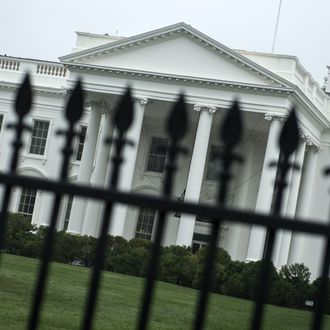 Photo: BRENDAN SMIALOWSKI/AFP/Getty Images
Secret Service officers shot and wounded a man armed with a gun near a White House checkpoint shortly after 3 p.m. Friday. The suspect apparently waved a weapon outside the gates on the west side of the grounds. The White House went into lockdown after the standoff, but it has since been lifted.
The area outside the White House teamed with tourists on this sunny spring day in Washington, D.C. Many witnesses reported seeing a man walking toward the White House with a weapon drawn. He apparently did not back down when Secret Service officers confronted him. One witness told NBC's Washington affiliate that he saw Secret Service agents running and heard gunshots. "As we were coming back, I heard one more shot. So it was three total."
The man was reportedly taken to the hospital; he is reportedly in critical condition. The Secret Service and U.S. Park Police may have located the suspect's vehicle parked a few blocks away. It is a white Chevy Malibu with Pennsylvania plates; the Secret Service and D.C. police are presently searching the vehicle for additional ammunition and weapons.
President Obama is not at the White House; he left a few hours earlier to go golfing at Andrews Air Force Base in Maryland. He has been notified. Vice-President Biden was there at the time of the shooting, but he and everyone else in the complex were unharmed, per the White House.
This is a breaking-news post, and we will update as more information becomes available.