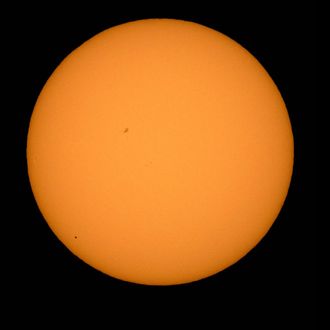 The sun doesn't have a zit. That's just Mercury in the lower left.
Photo: NASA/Bill Ingalls
If you packed a pair of high-powered binoculars with solar filters today, you can watch Mercury's trip between the Earth and sun — it will look like a tiny black dot. If not, check out this GIF for a less majesterial view of what your stargazing friends are all excited about:
Earthlings can only see this Mercury event about 13 times per century — the last time this happened was in 2006, and it won't happen again until 2019. Luckily, the folks at NASA have been capturing Mercury's every move since the planet began its passage over the face of the sun at 7:12 a.m. today. The entire trip will take about seven and a half hours. 
And here's a look at the view from across planet Earth.