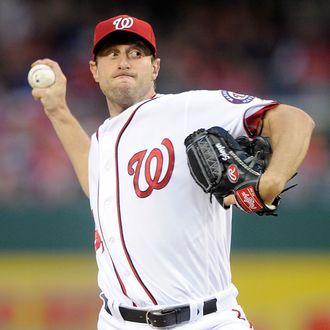 Max Scherzer struck out 20 Tigers last night.
Photo: Greg Fiume/Getty Images
Max Scherzer joined an elite club Wednesday night, becoming just the fourth pitcher in big-league history to strike out 20 batters in nine innings of a single game. Scherzer needed just 119 pitches in the complete game win over the Tigers — the fewest ever in a 20-K game. How efficient was Scherzer last night? He threw just 23 balls, also the fewest ever in a 20-strikeout game.
Scherzer is the first pitcher since Randy Johnson in 2001 to strike out 20 batters in a game. (Johnson's game went into extra innings, but he left the game after nine.) Prior to that, Roger Clemens did it twice, and Kerry Wood did it once.
Remarkably, this was only the fifth-best game of Scherzer's career, according to a metric called Game Score, which evaluates how strong a pitcher's start was. (Among the games above it: a 17-strikeout no-hitter, a 16-strikeout one-hitter, and another no-hitter with a measly 10 Ks.)
Here's Scherzer's 20th strikeout of the night:
And here's all 20 of his strikeouts in 20 seconds:
By the way, yes, one of those pitches did indeed hit the batter, but because Ian Kinsler couldn't stop his swing despite getting hit on the arm, he was called out.