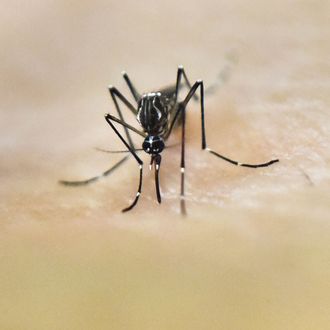 The Zika virus is spread by man's worst enemy: mosquitoes.
Photo: LUIS ROBAYO/Getty Images
The U.S. might not be ready for Zika, but it's getting there. On Thursday, the Senate approved a $1.1 billion emergency-spending measure to combat the Zika virus, the Associated Press reports.
The deal, struck between Patty Murray and Roy Blunt, is quite a bit less than the $1.9 billion the Obama administration was seeking, but it was the most Senate Democrats could get out of a GOP caucus reluctant to authorize any new spending. Republicans in Congress rebuffed the administration's initial request for funds in February, forcing it to use $500 million in unspent money earmarked for fighting Ebola instead.
"I have pushed for the $1.9 [billion] since the beginning," Murray said. "I think it's the right package. But I have reached an agreement with Blunt on what we can put into a package, and we'll have a vote on it." For its part, the White House said it welcomed "any sort of forward momentum" on the matter, but Senate Minority Leader Harry Reid panned it as "not enough, especially when the amount will likely be reduced further by House Republicans."
Of the $1.1 billion, about $361 million will go to the Centers for Disease Control and Prevention, $200 million will go to the National Institutes of Health to research a vaccine, and $248 million will go to efforts to combat the disease abroad.
The measure will be attached to a bill funding veterans and transportation programs, and Senate Majority Leader Mitch McConnell has already scheduled a floor vote for the legislation next week.
The Zika virus, which, when contracted by pregnant women can cause severe birth defects, has had devastating consequences in Brazil and other South American countries. It has since appeared in the U.S., with a pregnant Connecticut woman testing positive for the virus last week.