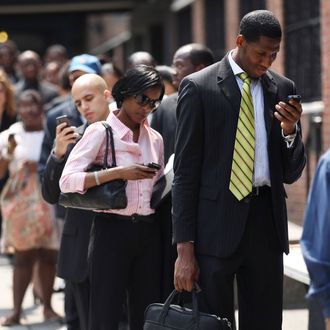 Would-be workers waiting in a job-fair line, possibly checking their LinkedIn profiles.
Photo: John Moore/Getty Images
Hiring is down, jobless claims are up, and Donald Trump is the Republican nominee for president. But you (probably) don't need to check the price of a one-way ticket to Toronto just yet.
First, let's go over the bad news: In April, the U.S. economy added 160,000 jobs — well below the 200,000 forecasters had been expecting. What's more, the previous two months' jobs gains were revised down by 19,000. And these headline figures aren't even the most disappointing aspect of the survey.
One of the most encouraging economic developments of Obama's second term has been the rising labor-force participation rate. In the wake of the 2008 recession, millions of prime-age workers were tossed out of the labor market and never came back. Even as the unemployment rate declined, the percentage of working-age Americans seeking jobs remained near historic lows. But starting last September, the labor-force participation rate finally showed signs of recovery, rising steadily for six straight months.
In April, that trend flipped into reverse. The workforce contracted by 362,000, and the labor-force participation rate dipped by 0.2 percent.
The day before these dispiriting figures were released, the Labor Department announced that weekly filings for unemployment benefits posted their biggest gain in more than a year. That same day, a report from global outplacement firm Challenger, Gray & Christmas showed U.S.-based companies announced 65,141 layoffs last month, up 35 percent from March.
Finally, all of this disconcerting data comes in the wake of the Commerce Department's announcement that the U.S. economy grew a piddling 0.5 percent in the first three months of this year.
So, why shouldn't you be worried that an untimely recession is about to sweep Donald Trump into the White House? For one thing, there probably aren't enough conservative white men in America to make that happen, regardless of how the economy holds up. And anyway, most analysts don't seem all that worried by the last two days of negative reports.
For one thing, the April jobs report isn't all bad: Wages rose by 0.3 percent last month and are up 2.5 percent on the year. With tepid inflation and super-low gas prices, those numbers represent significant gains in workers' purchasing power. And according to Forbes, as long as the economy produces more than 100,000 new jobs each month, it should be able to absorb the new graduates and immigrants entering the market. Plus, month-to-month variations in economic reports often prove to be statistical blips in the long run. Even with April's dip, the labor force has increased by an average of 273,000 a month so far this year. Finally, the quit rate — an indicator of Americans' confidence that they can find better jobs than their current ones — has been trending up so far this year.
So, the economy (and the republic) should be fine. Probably.