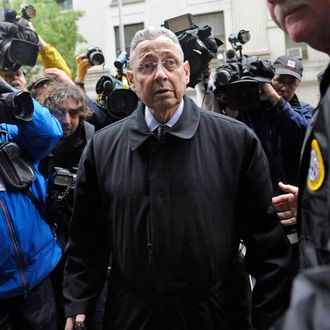 Sheldon Silver arriving at federal court for yesterday's sentencing.
Photo: Louis Lanzano/Bloomberg via Getty Images
Sheldon Silver — the once-powerful State Assembly Speaker who was convicted last year on seven counts including fraud, extortion, and money laundering — was sentenced Tuesday to 12 years in prison, and he's asked a federal judge to send him to a minimum-security prison that offers town-hall meetings for inmates and "quiet time" every night. Silver, who must also pay a $1.75 million fine and forfeit $5 million in proceeds from his crimes, has asked the judge that he be sent to the Federal Correctional Institution in Otisville, New York, less than a two-hour drive from his Lower East Side residence.
The Post reports that the Otisville prison is also known as the best one for observant Jewish inmates, who have access to full-time rabbis.
Silver was taken down as part of U.S. Attorney Preet Bharara's campaign against public corruption — one that also resulted in a corruption conviction for State Senate Majority Leader Dean Skelos. During Silver's trial, evidence showed that he traded favors in return for millions of dollars in kickbacks from a cancer researcher and a real-estate developer. Skelos automatically lost his seat upon conviction.
Prosecutors had sought to make an example of Silver and asked that he get a harsher sentence than other state legislators convicted of corruption. (The longest one the government cited was the 14 years behind bars given to former Democratic assemblyman William F. Boyland Jr.) Sentencing guidelines recommended a term of roughly between 22 and 27 years, but Judge Valerie Caproni said a sentence in that range would be "draconian and unjust" given 71-year-old Silver's age. Silver was ordered to surrender to prison by noon on July 1.
Caproni said she'd recommend that Silver be sent to the Otisville facility, though it's ultimately up to the Federal Bureau of Prisons. The Post reports that other possibilities for Silver, who was diagnosed with prostate cancer, include the Federal Medical Center in Devens, Massachusetts, or the Schuylkill Federal Correctional Facility in Pennsylvania, where two other convicted New York legislators are already doing time.
Silver spoke briefly at the sentencing yesterday, saying that he let down his constituents, his family, and his colleagues. "I'm truly, truly sorry for that," he said. As he exited the courtroom, he told reporters, "I believe in the justice system and we will pursue all remedies."
After Silver was sentenced yesterday, Bharara took to Twitter to say, "Today's stiff sentence is a just and fitting end to Sheldon Silver's long career of corruption."