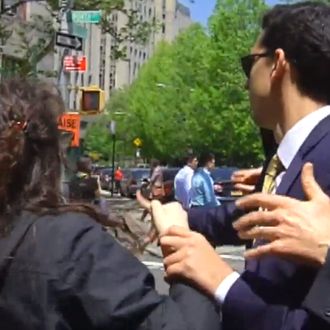 Dean Skelos's nephew Billy appears to grab a reporter's wrist and throw her phone.
Thursday was not a banner day for the Skelos family. Dean, the former State Senate Majority Leader, was sentenced to five years in jail in his corruption case. His son Adam got six and a half years behind bars in the same case, with the judge telling him that his bullying and threats required a sentence that deters him from such behavior in the future. And then, after the hearing, Dean's nephew Basil (Billy) Skelos was arrested for allegedly grabbing a Daily News reporter's wrist and throwing her phone across the street.
The incident was captured on video and can be seen around the one-minute mark of this clip:
The Daily News reports that Billy Skelos also pushed a photographer and shouted "You wanna go?" as he left the courthouse. It also reports that he continued to yell at the reporter, Victoria Bekiempis, as she spoke to a police officer.
The 27-year-old Skelos was arrested and charged with misdemeanor assault. He was given a desk appearance ticket at the 5th Precinct station house.
Police say there was no visible bruising to Bekiempis's wrist, and her phone was not damaged. The News reports that she received a tetanus shot at New York–Presbyterian Hospital Lower Manhattan as a precautionary measure for scratches she sustained in the incident.
Billy Skelos is the son of Dean's younger brother, Nicholas, and had written the judge in his uncle's case seeking leniency: "My uncle is a leader, he is a gentleman, he is a rock, he is the reason I am so proud to call myself a Skelos." It's a name, though, that seems to get more disgraced by the day.