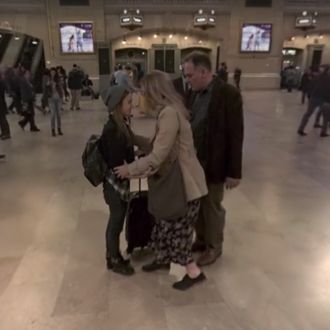 Grand Central Terminal, with its iconic clock and infamously inverted ceiling constellations, is a thing of beauty. It's also often crowded, loud, and walking through it puts you at serious risk of accidentally being bludgeoned to death by teen with a selfie stick. Instead, why not just stay at home and watch it on Facebook? (That's what Facebook would want you to do.)
The video, titled Here and Now, was shot by Facebook's in-house creative team, The Factory, and is the first video they've created using the company's new Surround 360 camera, the Verge reports. It's designed to be watched on Samsung's Gear VR headset, but it'll also work in your standard browser.
The whole thing lasts just three and a half minutes and was shot entirely during Grand Central's off-hours (2:00 a.m. to 5:30 a.m.), so everyone in it — tourists taking selfies, moms and dads getting lost, drug-sniffing dogs — is an actor. It feels just like the real thing. Except not.