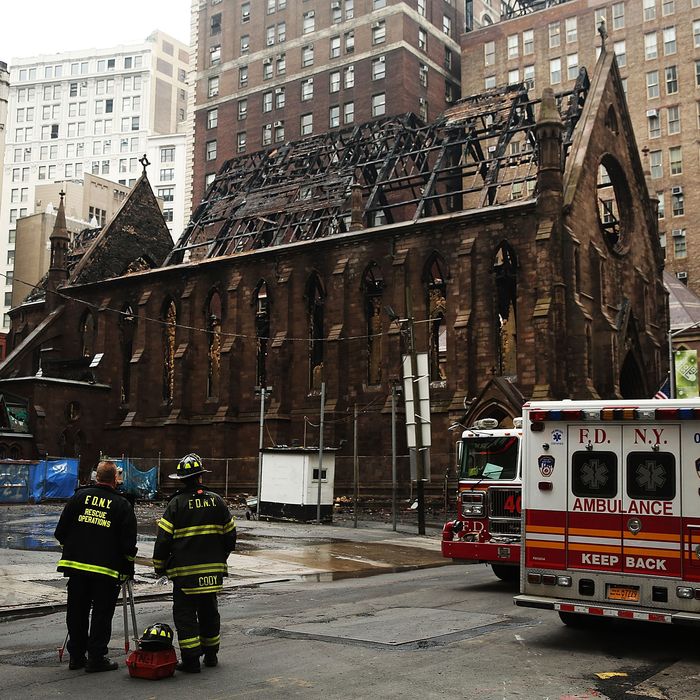 The aftermath of Sunday's fire at the Cathedral of Saint Sava.
Photo: Spencer Platt/Getty Images
The FDNY says that Sunday's four-alarm fire at the historic Serbian Orthodox Cathedral of Saint Sava on 25th Street wasn't suspicious, but the Post reports that some in the Orthodox community fear that the blaze was part of a coordinated attack on the religion. The fire was one of four at Christian Orthodox churches around the world on Sunday, which was Easter for Orthodox Christians. The Post reports that there's worry the fires were set in retaliation for the religion's role in blocking the canonization of Croatian cardinal Aloysius Stepinac.
"Too many churches have burned to call it an accident," Dr. Dušan T. Bataković, a former Serbian ambassador and the director of the Institute for Balkan Studies in Belgrade, told the paper. "It is very strange that it happened, that the fires all took place on Easter, the greatest Christian Orthodox holiday. Some kind of terrorist action cannot be excluded."
The FDNY said Sunday that the fire did not appear suspicious, and on Tuesday a department spokesperson said it probably started when a caretaker didn't properly extinguish candles after an Easter service.
Two Orthodox churches in Australia and one in Russia were also engulfed in flames on Sunday, the Post reports.
"This is a terrible tragedy, and the thought that this is an attack has not escaped us," Barry Lituchy, executive director of the Jasenovac Research Institute, a Brooklyn-based human-rights nonprofit, told the Post. Lituchy said he's also been bombarded with calls from worried members of the Orthodox community.
This post has been updated with additional information from the FDNY.