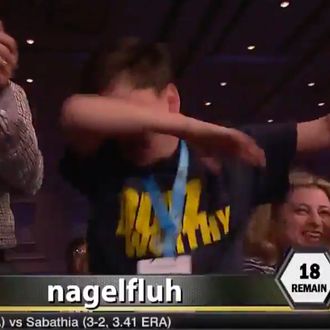 Earlier today, Scripps Spelling Bee contestant Mitchell Robson was thrown a bit of a curve ball. One of 18 spellers remaining, Robson was asked to spell the word nagelfluh, which we all know is a noun defined as "a massive variegated conglomerate forming a prominent member of the Miocene series in the Alps."
Mitchell prevailed, and his family was very happy. His brother, in particular, went dab-wild.
Whoa, dude. Don't dab too fast. You might pull a muscle.