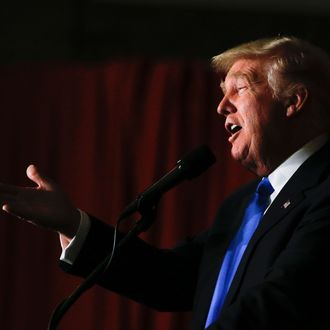 A pose Trump will likely have to get used to.
Photo: Eduardo Munoz Alvarez/AFP/Getty Images
Donald Trump has now contributed more than $43 million of his own money into his presidential campaign, according to new FEC filings reviewed by the Associated Press. Most of the money has come in the form of personal loans, though Trump has indicated he will not try to pay himself back using funds donated to his campaign. Trump's loans have made up roughly 75 percent of the $59 million his campaign has raised, around $57 million of which was spent on the primary battle. Looking ahead, Trump has already announced that he will not be self-funding his general election effort, though attracting contributions from the GOP donor class may be a lot more difficult than his campaign would prefer, and that support might be critical when considering that Trump's spending so far is less than a third of the $152 million spent by the campaign of likely Democratic nominee Hillary Clinton, according to Politico. The Clinton campaign also surpasses the Trump campaign on a staffing level, with 732 employees compared to the Trump campaign's 70, and it has also invested significantly more in office space.
Of all presidential candidates, the FEC filings show that Bernie Sanders's campaign has spent the most to date, dropping $207 million on the race, though the Washington Post noted on Friday that Sanders had only $5.8 million left at the end of April, compared to Clinton's $30 million at that time, though her campaign's total also includes funds from joint fundraising efforts with the Democratic Party. Clinton is also the only candidate of the three to have had major super-PAC support, though the Trump campaign, looking to raise $1 billion before election day, is now moving to embrace such assistance, despite Trump himself having frequently criticized his Republican primary opponents for relying on such outside funding. The New York Times passes along that the biggest super-PAC supporting Clinton, Priorities USA Action, has raised $76 million through the end of April, and now has about $47 million on hand to target Trump in the general election. The Times adds that group has broken its fundraising records as a likely result of Donald Trump's impending nomination, and has already begun running anti-Trump ads in four battleground states. 
For the Trump campaign, addressing the disparity in campaign size and support may prove difficult, according to a new Times report which indicates that many in the GOP donor class continue to view the presumptive Republican nominee with skepticism (at best). That's hardly surprising, considering how many conservative donors are a part of the same Republican establishment that Trump has been actively running against for almost a year, but the resistance also reflects the candidate's penchant for controversial and often contradictory remarks and positions. More than a dozen of the GOP's "most reliable" donors — who have combined to give some $90 million to support conservative candidates and causes in the last three elections — have indicated to the Times that they will not contribute or help raise funds for Trump. Others suggested they could see themselves supporting Trump, but only if he, in effect, stops being Trump. 
The real estate mogul is already winning at least one spending battle, however. His campaign spent $856,000 on branded merchandise last month, almost ten times more than the Clinton campaign did.
This post has been updated to include details about the GOP donor class withholding their support from Trump.