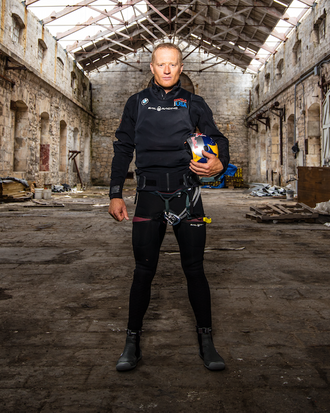 Among the many outdoor events that ought to be on your spring and summer agendas, the Louis Vuitton America's Cup World Series is a can't miss. The sailing races, which features the latest and most innovative in boat technology, will kick off at the Brookfield Place Waterfront Plaza, the Cup's official Event Village, and the races will be watchable from numerous enclaves of Manhattan, from Pier A at the southern tip of the island to Pier 25, off Tribeca. The two-day sailing extravaganza, happening May 7th and 8th, will mark the first time in 96 years the races return to New York City.

One of the six sailors representing Oracle Team USA will be James (Jimmy) Spithill, the acclaimed yachtsman out of Sydney who, at the age of 30, was the youngest helmsman to win the America's Cup. Known for setting benchmarks in the competitive sailing world, and also for his sardonically tongue-in-cheek replies to journalists, Spithill, along with teammates tactician Tom Slingsby and Matt Cassidy (making his crew-list debut), will take the Hudson River and its spasmodic currents for a ride.

Oracle Team USA will be outfitted in the most advanced equipment being developed by the sailing world's sartorial heavyweights; Swedish company Sail Racing International provides the technical and shore gear, tested by Spithill and crew throughout the last year. Among the racing paraphernalia will be impact helmets, high-tech life vests, emergency oxygen tanks and a rescue knife. With speeds reaching more than 40 mph on the AC45 catamarans, and the potential for collision or capsize, they are dressed for survival. Speaking for his teammates, the sailing maestro noted "it's to our benefit that our sailors are assisting with the design of what we will end up wearing on the race boat."

Oracle Team USA's ultra-modern get-ups, and the world's most advanced boats they sail, are emblematic of the sport's revolution, with an influx of young fans, technological advancements and action-sport velocity. So long are the days where sailing aficionados were typecast as preps in pastels; sailing, now, is no recreational outing, but a high-performance sport with elite athletes and charismatic personalities. Even Sperry, pioneer of the ubiquitous boat shoe, worked directly with the athletes to create high-performance footwear for the crew, able to withstand a saltwater beating and keep the sailors stable as they run across the mesh trampoline onboard the catamaran.

The races are free and open to the public, but be sure to catch the America's Cup racing in NYC before the athletes leave for Chicago, where the next races take place June 10th to June 12th.