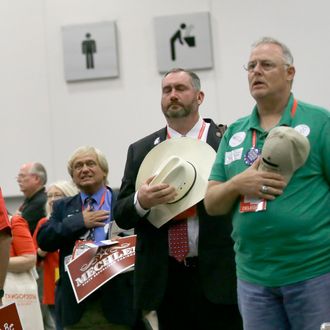 Standing at attention.
Photo: LM Otero/AP
Across 11 state conventions this weekend, Republican activists and operatives worked to unify under the newly inevitable Trump banner and, in some cases, stifle anti-Trump dissent, Politico reports. Thus, Trump supporters won elections to fill national convention delegate slots in most states with much more ease than in the past — quite a turnaround from the recent domination of such votes by supporters of Ted Cruz — and that altogether means Trump-brand Republicans are now poised to take the reins of at least some of the lower-level party apparatus, though to what long-term end remains unclear.
At Maryland's convention, conservative activist, Citizens United chairman, and major Trump ally David Bossie won election as the state's national committeeman over party stalwart Louis Pope. (Maryland's Republican governor, Larry Hogan, who has declined to support Trump thus far, did not attend the event.) In Nebraska, state convention delegates voted to rebuke one of the most prominent #NeverTrump members, Senator Ben Sasse, by overwhelmingly passing a resolution opposing his call for a third-party conservative candidate for president and also rejecting a counter-resolution that aimed to condemn Trump for making "degrading" comments toward women and minorities, according to the Omaha World-Herald. It wasn't all bad news for Sasse, however, as the World-Herald reports he still seemed to have a majority of support at the convention, though he also seemed to deliberately avoid the subject of Trump in the speech he gave there. Twenty-one of the 36 national delegates elected on Saturday in Nebraska ended up being Trump supporters. 
Regardless, it's also very clear that opposing likely Democratic nominee Hillary Clinton was the much more powerful motivator of GOP unity across these conventions than supporting Trump. No matter the setting, be it Kansas, Nevada, Maryland, Wisconsin, Arkansas, or any of the other states where Republicans got together this weekend, delegates freely told reporters that while they weren't 100 percent about Trump or his positions, they were certain he was a better choice than Clinton. Virtually every convention speech, by governors, state officials, and members of Congress, echoed that reasoning as well.
Reservations clearly remain, however, like in Florida, where some delegates worried about Trump's impact on the Latino vote, or in Texas, where Ted Cruz gave a speech and avoided any mention of Trump but nonetheless warned convention attendees that Republicans "may face some challenging days ahead" — a notion that seemed to be shared by many in the audience. But while Paul Ryan and other national Republican leaders are still keeping at least some distance from Trump, at the state and local level of the GOP, the tension of the contentious primaries seems to be subsiding, albeit with many still holding their noses.