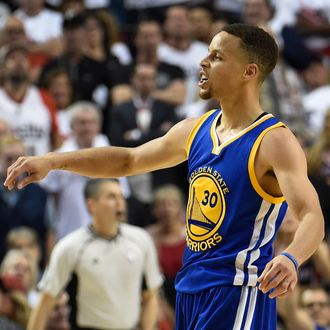 Stephen Curry scored 40 points in his first game back from a knee injury Monday night.
Photo: Steve Dykes/Getty Images
Stephen Curry hadn't played since April 24 because of a knee injury, and even after returning to the lineup on Monday night for Game 4 of Golden State's series against Portland, he didn't immediately look like the league's two-time reigning MVP. Curry didn't start the game, and after coming off the bench, he missed his first nine three-pointers. He had 11 points in the first half, and just 13 through three quarters. But after heating up in the fourth, Curry took over the game in overtime, scoring an NBA-record 17 points in the five-minute period and leading his team to a 132–125 victory and a 3–1 series advantage. That's not just a postseason record, by the way: It's the most points anyone's ever scored in OT, in either the regular season or playoffs.
Curry finished the game with 40 points and, by the start of overtime, appeared to have fully shaken off the rust. After scoring his team's first 12 points of OT, he announced to Blazers fans that, indeed, he was back:
Meanwhile, the Golden State bench was just enjoying the show:
Curry's big overtime silenced the Portland crowd. Owner Paul Allen's face said it all.
The Warriors can finish off the Trail Blazers at home Wednesday night.