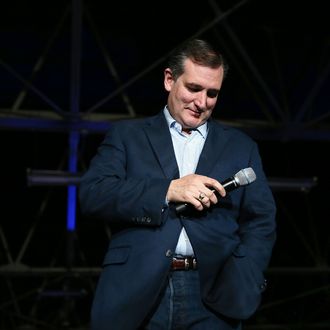 So long, Ted.
Photo: Joe Raedle/2016 Getty Images
After a disappointing loss in Indiana's Republican primary Tuesday night, Ted Cruz granted Donald Trump's dearest wish and dropped out of the presidential race. In a lengthy speech, the Texas senator said that "from the beginning, I've said I would continue as long as there was a viable path to victory," but acknowledged that "that path has been foreclosed." "I am suspending our campaign," he told supporters in Indiana, "but I am not suspending our fight for liberty." 
Cruz had a tough week in Indiana, culminating in one of his most aggressive anti-Trump rants to date in which he called the GOP front-runner a "pathological liar," "utterly amoral," "a narcissist at a level I don't think this country's ever seen," and "a serial philanderer." Despite all that, with all precincts reporting in the Hoosier state, Cruz lost to Trump by about 17 points; his last outright victory was in Wisconsin at the beginning of April.
Cruz's supporters booed as he announced his decision, but the real loser here is Carly Fiorina, whose vice-presidential bid lasted for about a week.