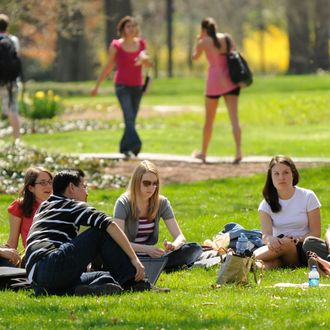 Photo: Collegiate Images/2012 Collegiate Images
On Monday, Tennessee — which, coincidentally, is one of the only states with an official state gun — passed a law that lets college faculty and staff carry guns on campus. According to The Tennessean, rather than signing the bill outright, the state's governor, Bill Haslam, decided to let campuses make their own decisions on security issues.
Although the law doesn't allow even students with permits to carry guns on campus, it does permit some 27,000 full-time faculty and staff members of the state's public colleges to carry a weapon on college property, including in classrooms and lecture halls.
It does include some restrictions: Employees who want to come to campus armed would have to conceal their weapon and would need to notify local law enforcement of its presence. They'd also be barred from carrying a weapon into stadiums during school-sponsored events and into meetings "regarding discipline or tenure." What's more, the permit holder — and not the university — would be liable were the gun to accidentally discharge. And Tennessee's law is more conservative than laws in states like Texas, which do allow students to come to campus armed. 
The bill's House sponsor, Republican Andy Holt, said its purpose is to make campuses safer. "It's not an effort to create an armed battalion on campus but to allow individuals to protect and defend themselves," he said. 
But opponents of the law say that, not only will it fail to make campus any safer, it could complicate how police handle active-shooter situations. "If there were an incident or shooting on campus, they would not be able to tell who has a gun legally and who is committing a crime," Monica Greppin-Watts, the communications director for the Tennessee Board of Regents, told The Tennessean in March, adding that the Tennessee Association of Police Chiefs agreed the law would decrease campus safety.
They also say that in passing the law, Tennessee lawmakers ignored input from campus police chiefs. "This will require them to scrap their FBI training protocol when it comes to responding to an active shooter situation," said Beth Joslin Roth, policy director of Safe Tennessee Project. "But, in our state, the gun lobby is more influential than law enforcement."